VigilanceVineyards Guest House
by
Terry Sullivan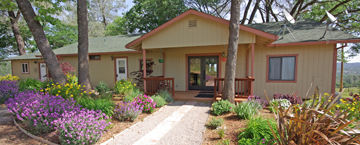 Summary: The romantic notion of spending time at a vineyard is not that far away. Vigilance Vineyards has a guest house for rent. It is located in the vineyards, far away from roads. From every room in this three bedroom, two bathroom house, you can see vineyards. Along one side of the house there is a sweeping view of vineyards, hills, valleys and Clear Lake. Outdoor decks and a patio area have plenty of room to spread out or just sit and enjoy the view.
Unlike a hotel room or suite, the Vigilance Guest House is a house equipped with a full kitchen, dining room, living room, three bedrooms and two baths. The dining table can comfortably sit six. The living room has a leather chair that you'll sink into, a leather couch and a fabric chair. A satellite television is in the living room. There is wireless Internet access throughout the house. We had a powerful signal but the Internet worked slowly.
A large foyer area is next to the living room. At the meeting of the foyer, living room and dining room, visitors can use a wood burning fireplace in cooler months. Wood and kindling were available, however we did not need to start a fire. The house also has central heat and air conditioning with an easy-to-use control thermostat.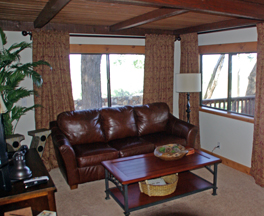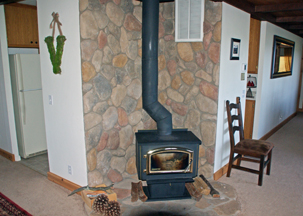 The kitchen has a standard size refrigerator, dishwasher, gas oven, stovetop, and microwave as well as dishes and utensils. Standing at the kitchen sink, you have views of a flower garden and vineyards beyond. There is plenty of storage space for the food items you bring.
Each bedroom has a queen-size bed. The master bedroom has a large bathroom while the two smaller bedrooms at the opposite end of the house share a bathroom.
The house is built for comfort, however the best feature is the stunning view looking east toward hills, valleys, Anderson Marsh and Clear Lake. This is a location where you can spend time and relax while taking in nature's beauty. Wine lovers and writers will enjoy spending time at the Vigilance Guest House.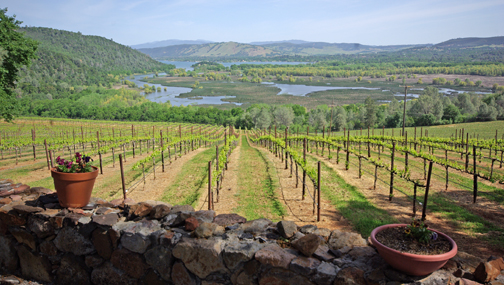 Vigilance Guest House at the vineyard
13888 Point Lakeview Road
Lower Lake, California 95457