Vezér Family Vineyards
by
Terry Sullivan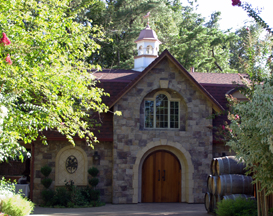 Our first impression of wineries and vineyards in the Suisun Valley of California is their hospitality. After a long flight from the east coast we arrived at one of the tasting rooms of the Vezér Family Vineyards. Everyone at the Mankas Corner Tasting Room was welcoming and made us feel at home. We spent the evening on that property where they have an apartment over the barrel room. A mile away at their Blue Victorian Tasting room, they have two rooms available for renting. These two rooms would be ideal for two couples that would like to spend some time exploring wine country, especially the undiscovered jewel of the Suisun Valley AVA.
A chateau-like building is nestled under trees. The bottom floor is a barrel storage area. The second floor is an apartment. Access to the apartment is by a stairway along the side of the building.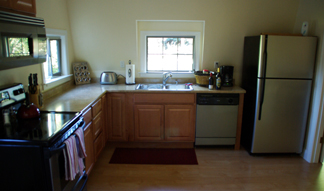 Our lodging at the Mankas Corner facility was restful. The apartment-styled lodging had a full kitchen equipped with full sized range, refrigerator, dishwasher and microwave. There is even a washing machine and dryer for those who may be interested in an extended stay. The kitchen has utensils, dishes and cups. A dining room can comfortable seat four. A bottle of Vezér Family Vineyard Estate Petite Syrah was on the table with two wine glasses.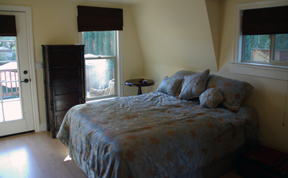 The master bedroom had a queen-sized bed, desk and plenty of closet space. An electric fireplace added to this romantic getaway. The bathroom amenities were better stocked than luxury hotels. There is a bathroom off the master bedroom and another bathroom with shower off the kitchen. Another bedroom has a day bed. This room also serves as the sitting room. Both sitting room and master bedroom have doors leading out onto a spacious deck.
The Vezér Family Vineyards at Mankas Corner offers travelers a modern relaxing apartment to spend an evening or longer as they explore the surrounding wine country.
Vezer Family Vineyards Mankas Corner
2522 Mankas Corner Road
Suisun City, CA 94534