Embassy Suites, Temecula
by
Terry Sullivan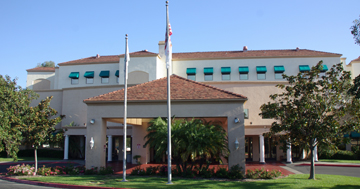 The Embassy Suites in Temecula offers wine travelers a quiet respite from the busy streets. Its location is about a ten-minute drive to wine country and just a few minutes drive to Old Town Temecula. The hotel makes a good base for exploring the wine country for those that prefer a suite over a single room. Breakfast is an important meal especially if one is spending the day visiting wineries. Embassy Suites has cook-to-order omelets as well a selection of eggs, potatoes, sausage, waffles and assortments of rolls, pastries and beverages. If one doesn't have enough wine during tastings throughout the day, the hotel offers an evening manager's reception with wine, beer, soda and an assortment of munchies.
Rooms
A grape-themed wallpaper border runs along the top of rooms, a gentle reminder that one is close to wine country. The wine country theme is also seen on the hallway carpet. The two-room suite is spacious enough to spread out. The living room area includes a sofa, chair, desk and television. The separate bedroom has a television. There are also non-suite rooms. All room types have the typical amenities including high speed Internet, iron and ironing board, hair dryer and bathroom supplies.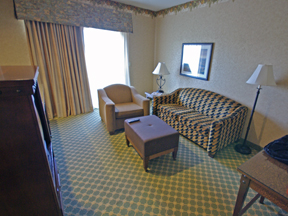 Extras
An outdoor pool can help one cool down during the hot summer months. A restaurant, Marie Callender's Restaurant and Bakery is located within walking distance. Just walk past the parking lot to the restaurant's adjacent lot. Several more restaurants are located on Rancho California Road and in the Old Town area. Some of the wineries also have restaurants open for lunch and a few have restaurants open for dinner. For those who prefer to shop for a few items and crash in their hotel room, a Vons (Safeway) is just minutes away from the hotel.
Location
The address of the hotel is on Rancho California Road however there is no entrance to the hotel from that road. Instead one needs to turn onto Ynez Road and make a right on Rancho Highland. This road leads to Embassy Suite's parking area.
Embassy Suites makes an ideal location for visiting Temecula wine country and the quaint shops in Old Town Temecula.
Embassy Suites
29345 Rancho California Road
Temecula, California 92591