Spain
We visited Spain in the autumn of 2014. After spending a couple days in Barcelona, we ventured to the Priorat and Montsant wine regions to visit six wineries. The following week we visited cava producers in the Penedés wine region. We were able to spend two more days in Barcelona before returning home.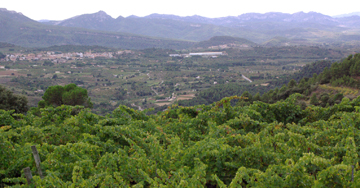 The countryside of Catalonia, Spain is hilly with mountains in one direction and the Mediterranean Sea in the opposite direction. Vineyards dot the hill sides and the valleys below. The Penedés region is known worldwide for its cava production. This sparkling wine is universally a great bargain for those that enjoy sparkling wines.
Lodging in the area has a range of possibilities. You can select a simple farm house setting with little amenities to hotels that have more amenities than most hotels in the world. The hotels we stayed at in the Priorat and Penedés regions were very close to wineries, often with vineyards adjacent to the properties.
Our winery visit articles are appear on the Wine Trail Traveler Site's page on Spain.