Tallman Hotel
by
Terry Sullivan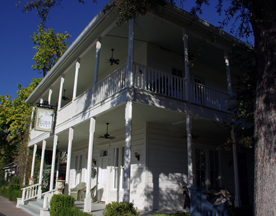 The Tallman Hotel dates from the 1870's when Upper Lake was the end of a stagecoach line. In addition to the hotel, Rufus Tallman also built a saloon and livery on the property. Rufus and Mary Tallman left the hotel to their daughter, Winnie, in the early 1900's. The hotel survived for decades as a guesthouse. During the 1950's the house was a nursing home. In 1965 it was purchased by Elizabeth Wilson, but was unoccupied for forty years. The townspeople tired of a vacant building in their town, painted curtains on the windows to make the building appear occupied.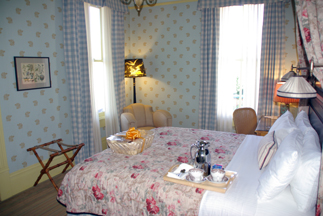 The Tallman Hotel was restored and reopened as a hotel in June of 2006. The new owners kept much of the traditional structure and the decorating elements keep a feeling of earlier decades. The eight rooms on the second floor were remodeled to four rooms with bathrooms in each. Our room was comfortable and pleasant. There was a door leading to an outside deck with table and chairs. The deck offers a comfortable area for reading, writing and conversation. Views from the deck included the garden area between the restaurant and the hotel. Wireless Internet worked well. The evening was quiet and relaxing.
Upon entering the hotel, an album focusing on the history of the hotel is available for visitors to enjoy. A comfortable sitting room and dining area are on the first floor. A fireplace adds to the ambiance. A continental breakfast is served in the morning. On the property, there are two other buildings with rooms for a total of 17 guest rooms. Four of the rooms have a Japanese ofuro, a soaking tub. There is a conference room on the property that also serves as an event room and musical performance room.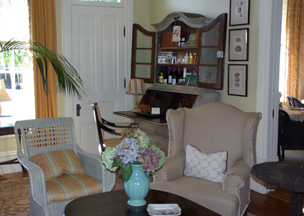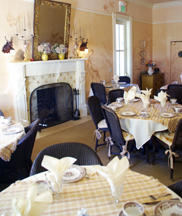 The saloon was rebuilt and is now a restaurant with indoor and outdoor seating. The outdoor seating area is between the saloon and hotel and is nicely landscaped. A section of the outdoor seating area is heated and can be used year round.
Close to wineries, the Tallman Hotel offers a good base for winery visitors.
Tallman Hotel
9550 Main Street
Upper Lake, California 95485
GPS: N39º 09.891' W122º 54.643'