Lakeport English Inn
by
Terry Sullivan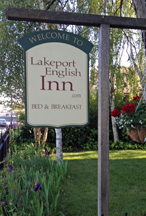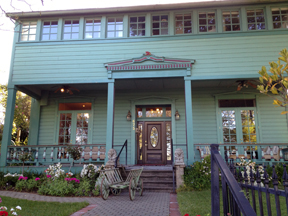 Summary: The Lakeport English Inn Bed and Breakfast is just a short walk from the sparkling blue waters of Clear Lake. The greenish-blue colored siding on the outside of the house surrounded by gardens with blooming flowers, represents a time past. A large quilt is painted on the side of the Inn. While traveling in the area look for other quilt patterns by following the Lake County Quilt Trail. Whether you are into water sports, fishing or a day of wine tasting, The Lakeport English Inn Bed and Breakfast offers comfortable lodging.
We were greeted at the door by smiling proprietor Karan Mackey. On the late Friday afternoon, tea service was set up in the dining area. The charming china in use for the tea was English-style with rosebuds in the pattern. The teapot is kept hot with the use of a tea cozy.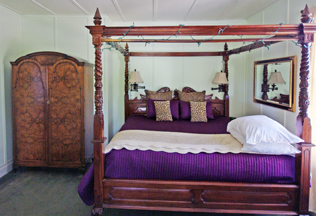 After taking our luggage to our second floor room, we enjoyed a cup of tea and a blueberry scone. Our room had a poster queen-size bed, a Jacuzzi and bathroom. There was fast wireless Internet service and a television set. Throughout the Bed and Breakfast guests will discover the rooms are filled with vintage pieces of furniture.
After spending an hour writing, we decided to head off on foot to find a restaurant. We went to Park Place for dinner and a walk in the park afterwards. The restaurant and park were only five blocks from the bed and breakfast. A few more blocks along the park is the Bell Hill Wines tasting room. We had visited the tasting room and enjoyed their wines earlier in the day. We ambled back to the inn and spent a couple hours relaxing. During our waking hours we never heard anyone else. We thought we were the only ones in the inn.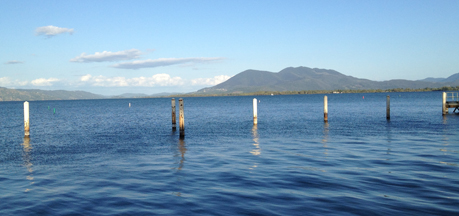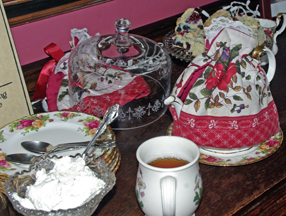 Early the next morning Kathy went to pick up some coffee and tea. Again there was the impression that we were the only ones there. It was not until breakfast and other couples sat down in the dining area that we learned that others spent the evening. Each of the four couples stated they too felt that they were the only ones in the inn. During breakfast, friendly conversations ensued.
The Lakeport English Inn Bed and Breakfast is conveniently located in Lakeport, California. It is within walking distance to one winery tasting room while several others are a short drive away. Expect a relaxing evening at the inn where you too may feel that you are the only one there.
Lakeport English Inn Bed and Breakfast
675 North Main Street
Lakeport, California 95453