Georgia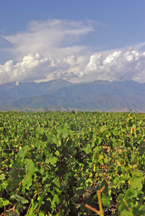 Georgia, also known as Sakartvelo, is an ancient land between the Greater and Lesser Caucasus Mountains. People in this area have made wine for 8,000 years. They have tended vineyards for those eight millennia. This land is the birthplace of wine. Wine enthusiasts who enjoy travel will want to visit Georgia to discover the more than 540 varietal grapes growing in this country and wines that are made with modern technologies and traditional technologies.
Of the ten Georgian viticultural regions, Kakheti has the most wineries and the greatest number of hectares planted with vineyards. The largest town in Kakheti is Telavi. Wine travelers have several lodging possibilities. In the larger cities, travelers can find international hotel chains while in the smaller cities, towns and villages there are bed and breakfast possibilities. A number of wineries have lodging facilities. While in Tbilisi we stayed at the Radisson Blu, a modern international hotel with large rooms and highend amenities. While in Batumi, we stayed at the Sheraton and had a very spacious modern room in a hotel just a short distance from the boardwalk along the Black Sea. While in Kakheti we spent four nights at Chateau Mere, a 15 room hotel built on the same property as Winiferia Winery.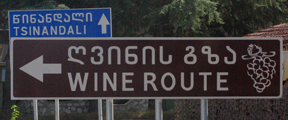 For wine tourists, it is best to hire a wine tour operator that will provide a guide and a driver. The roads in Georgia leading to wineries are not always paved and navigation can become complicated dealing with ruts and the numbers of animals that share the roads with vehicles (cattle, horses, chickens, goats, lambs, dogs and pigs.) Many of the winery owners and winemakers are not English-speaking. An English speaking guide is beneficial. Most of the wineries are enclosed by a solid wood or metal fence. One needs to know where to stop and honk the car's horn. A guard will come out and talk to you, then open the fence or gate and show you where to park. Again, it is best to have a guide and driver.
Some of the wineries are large production facilities producing a million bottles or more. They often have tasting rooms or a room that is multi-purpose that can be used as a tasting room. Small producers may only make a few hundred bottles of wine. They often do not have tasting rooms. Expect a friendly welcome and tasting of their wines on a picnic table or even the kitchen table. Whether you prefer the large production or small production wineries, try to visit some of each.
Visiting Georgian wineries is a rewarding and educational experience.