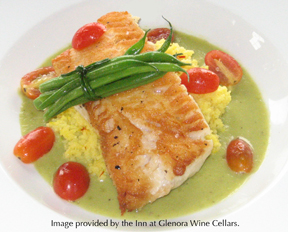 Recipes
Welcome to the Recipe Section of Lodging.Wine Trail Traveler. Many of these recipes have been donated to this site by bed & breakfasts, inns, and other lodging facilities. Enjoy!
Interested in recipes that use wine as an ingredient? Our companion website has over 100 recipes with wine as an ingredient.
Appetizers | Beverages | Breakfast Foods | Desserts | Entrees | Salads | Sauces | Soups | Vegetables
---
This collection of recipes is under construction. We will add recipes on a monthly basis. Check back frequently for newly added recipes.
Appetizers
-Pancetta Wrapped Peaches Drizzled with Balsamic Vinegar
-House Cured Breseola and Grilled High Country Peaches with Palisade Cherry Syrup
-Gorgonzola Cheese Dip
Breakfast Foods
-Dreamcatcher Muffins

Desserts
-Palisade Peach and Mascarpone Tart with Almond Crust
-Colorado Peaches "Foster"

Beef
-
Fish
-Pan Seared Halibut
Game
-
Pork
-Vanilla Peach Pork
-Peach Polenta with Les Rilletes


Poultry
-
Peach Brandy Glazed Chicken
-Chicken Almondine ala Palisade
-Peppers and Peach Chicken
Soups
-Caldo Verde (a Portuguese Soup Recipe)
-Vermont Cheddar Soup

Vegetables
-Summer Asparagus Medley with Peaches, Pistachios and Scallions