Inn at Churon Winery
by
Terry Sullivan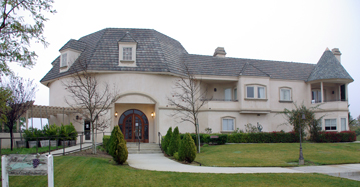 The Inn at Churon Winery offers a winery tasting room and a chateau-styled inn nestled among wineries and vineyards. Atop nine acres of hillside vineyards, the inn has nineteen rooms and five suites furnished in a French design.
The tasting room is down the stairway from the main entrance. A large retail area has an assortment of gift items and wine accessories. The tasting counter is in the shape of two letter "u's" affording easy conservation among groups. The winery is located adjacent to the tasting room.
Above the retail store and tasting room, is a large foyer. This room serves many purposes. The check-in counter is at one side and the remainder of the foyer includes tables and a comfortable seating area in front of a fireplace. The tables offer an additional area for dinner.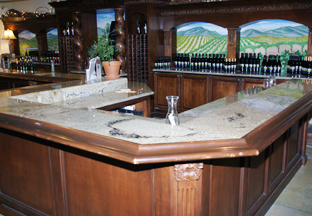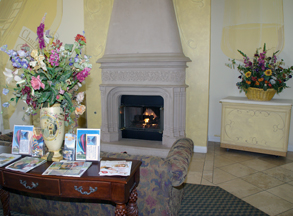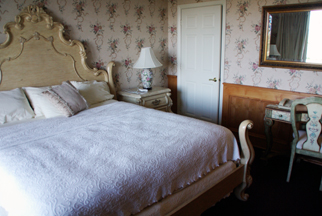 Our room was bright with rose patterned wallpaper. The bathroom was quite spacious with marble floors and countertops. There is a large walk-in shower in addition to a Jacuzzi large enough for two. The bathroom is larger than what one would normally find in many bed and breakfast facilities or in the chain hotels.
The room has a comfortable king size bed, desk, drawer unit with a refrigerator and a gas log fireplace. The fireplace operates with a timer and offers enough heat to take off a chill and warm the heart. This room is on the first floor and there is a walkout patio overlooking vineyards. The view of the landscape is wonderful. The rolling hills, distant vineyards and red clay roofs of buildings is reminiscent of our stay in Tuscany. The patio has two chairs and the sidewalls provide privacy from other rooms.
A stay at the inn includes breakfast and an afternoon wine tasting hour. For breakfast there are several choices. At the time of our visit, one could choose between an omelet, eggs Benedict, café croissant, Florentine Benedict and french toast. On the first day, I decided to order an omelet and the café croissant the second day. Both were served with potatoes, an orange slice and watermelon slice. From 5:00 pm to 6:00 pm guests can attend a free wine tasting in the tasting room. Cheese and crackers are also served. This is a wonderful time to meet other guests and discuss a range of topics often wine related.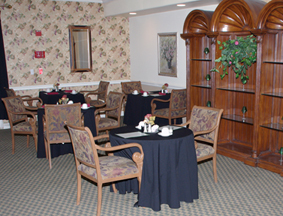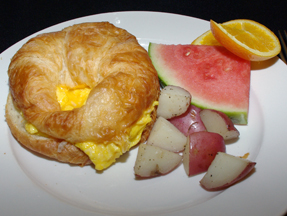 After a day of wine tasting, consider pampering yourself at the Inn at Churon Winery. The comfortable rooms, fireplaces, wine tasting and breakfast complement a good night's rest.
The Inn at Churon Winery
33233 Rancho California Road
Temecula, CA. 92591
GPS: N 33° 31.251' W 117° 04.734'