Twin Pine Casino & Hotel
by
Terry Sullivan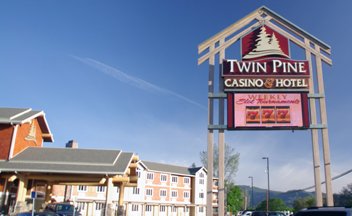 Summary: Wine travelers visiting wineries in the southern section of Lake County may want to make the Twin Pine Casino their base. This casino has a wine theme, their own line of wines, and is close to several wineries.
We had dinner at Manzanita Restaurant at the Twin Pine Casino in Middletown and noticed the wine theme. Entering the casino, the hotel check-in is to the right while the casino and the Off the Vine Gift Shop are to the left. Chandeliers in the casino have a grape motif. We met JoAnn Schwartz of Twin Pine Casino who gave a tour of the gift shop, casino area and restaurants.
Near the Off the Vine Gift Shop cashier, an area is used for wine tastings. The gift shop has several wine displays. On a barrel Twin Pine labeled wines were setting. Twin Pine has their own line of wines including Chardonnay and Petite Sirah. Another barrel top had wines from Lavender Blue. Each month the casino randomly selects a winery to showcase their wines. During our May 2012 visit, the Lake County winery, Lavender Blue, was presented. The gift shop offers discounted pricing and wines are featured by the glass and bottle in the Manzanita Restaurant and the Grapevine Bar & Lounge. Wine enthusiasts can also taste the winery of the month wines at the Off the Vine Gift Shop. In addition to promoting the winery, Twin Pine Casino & Hotel also have a wine pairing dinner at the Manzanita Restaurant. Toward the rear of the gift shop, doors lead to a wine cellar where wines and vinegars are for sale.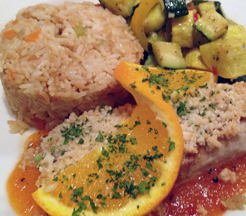 We ambled to the Manzanita Restaurant where the wine theme continues. Walls are adorned with prints of wine paintings and wine bottles are displayed throughout the restaurant. We met Chef Ian Anderson who made some dinner recomendations. The Mahi Mahi special of the day was an excellent choice. Dinner was delicious and lasted for hours, a testament to great wine, food and friends. The Grapevine Bar and Lounge is another area where people can relax. It offers weekend entertainment. Of interest is the pairing menu. Food items are made to pair with specific beers and wines.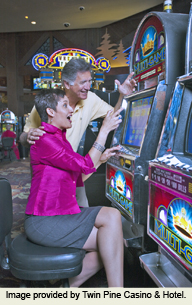 We checked into the hotel and our room. Our room was comfortable and had the usual amenities one expects in a hotel room. We didn't spend very much time in the room though. We were interested in playing at some of the over 500 slots machines. As usual, our luck was mixed. The casino also has an area for table games including Blackjack, Three-Card Poker, Flop Poker and Live Poker.
Whether spending a weekend or a few weekdays exploring Lake County wineries, Twin Pine Casino & Hotel is a wonderful base for discovering the close by wineries. Enjoy the wine theme at the casino, restaurants, and gift shop.
Twin Pine Casino & Hotel
22223 South Hwy. 29
Middletown, California 95461