Pechanga Resort and Casino
by
Terry Sullivan
Why stay at a casino when visiting wine country? Well the obvious choice is the entertainment value of slots and table games, but casinos generally provide upscale lodging facilities for the same prices or lower than chain hotels. Pechanga Resort and Casino also has entertainment if gambling isn't a preferred diversion. There are limited accommodations in wine country. Pechanga makes a good base for exploring wine country in the day and eating and gaming during the evening.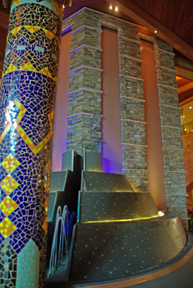 Pechanga means, "Place where the water drips," and this theme of running water and falls are evident in the spacious lobby and golf clubhouse.
Pechanga is the only AAA four-diamond resort casino in California and the largest casino west of the Mississippi River. If one is use to the ambiance of casinos in Las Vegas, they'll find Pechanga reflective of an elegance combining Frank Lloyd Wright-like architecture and Native American art and culture. While in the resort, take time to observe original artwork and photographs showing the culture of the Pechanga Band of the Luiseño people. This is an all-inclusive resort with gaming, restaurants, spa, pool, golf course and different types of deluxe rooms and suites.
Rooms
Four-diamond comfort is provided in the 517 rooms and suites. Typical amenities include wireless Internet access, television, iron and ironing board, coffee and tea and full bathroom supplies.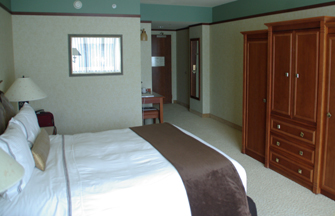 We stayed in a spacious room with a standard deluxe king-sized bed. The room was large with plenty of space to move about. Adjacent to the bathroom there is a small makeup table with a coffee maker, cups, coffee and tea bags. The bed is in the center of the room with a lounge chair and ottoman to one side. There is plenty of room to add another chair on the opposite side of the bed. A desk is in the corner. The bathroom is more spacious than bathrooms in chain hotels. It is separated into two rooms. The long vanity has two sinks and plenty of counter space. Bath products were called Spa and included two ounces sizes of hand lotion, shampoo, conditioner and shower gel. The two-ounce size is larger than those in many hotels.
We toured a one-bedroom suite. A bar with sink and two bar stools is adjacent to the entry door. The living room area has a sofa, chair and television. There is a table with seating for four in case one wants to have an in-room intimate dinner. The bedroom has a king-sized bed and is spacious. A bathroom off the bedroom is also accessible from the living room. The bathroom has a tub and separate shower and affords plenty of room to move around. Bathroom products are a larger size than those in deluxe rooms.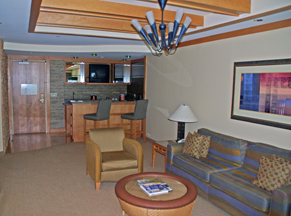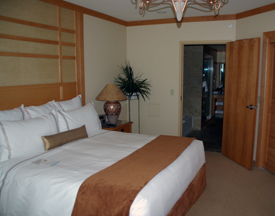 Rooms have wireless Internet access. You need to enter a username and password. If your Internet use is inactive for a time, you will need to reenter the user name and password.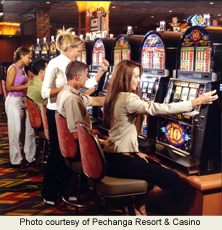 Gaming Area
The gaming area encompasses over 200,000 square feet of games making Pechanga the largest casino in California. Play 3,700 state of the art slot and video poker machines or amble to the 130 gaming tables and try your hand at cards. On our first night we only covered half of the slots gaming area. It took us a second day to find the other half.
There is a 54-table poker room on the second floor. Nightly tournaments entice poker players to this private area. If you enjoy high stakes visit the 14,000 square foot, high limit gaming area.
Restaurants
Restaurants, bars and lounges are close to the gaming area. Visitors can enjoy American, Asian, Italian and Mexican cuisines. Eight restaurants are located close to or within the gaming area. Another restaurant is located in the golf clubhouse. We had breakfast at the Pechanga Café, open 24 hours a day. One can order from the menu or select food from the breakfast bar. On our second morning we had breakfast at Journey's End, the restaurant in the golf clubhouse. We sat next to a fire pit and since it was cool and raining outside, the setting was perfect for relaxing.
Entertainment
If you like evening entertainment catch a show at the 1,200-seat Pechanga Showroom Theater. Smaller venues include the Comedy Club and Cabaret Lounge.
For wine enthusiasts that like the casino scene, Pechanga Casino and Resort makes a good base for exploring wine country.
Pechanga Resort and Casino
45000 Pechanga Parkway
Temecula, California 92592