Hampton Inn & Suites, Temecula
by
Terry Sullivan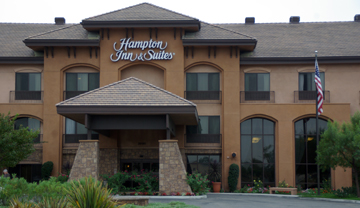 One of the first differences you'll notice about the Hampton Inn & Suites in Temecula is the color of the building. Unlike the beige Hamptons across the country, this Hampton has a brown brick facade that gives it a touch of elegance. Inside you'll find the typical Hampton look. Check-in is simple and opposite to the check-in counter is a small lounge and breakfast area. There are several room selection choices.
The hotel is off Jefferson Avenue and is approximately six miles from the start of the Temecula wine region. It is close to Old Town Temecula and its many restaurnts and winery tasting rooms. A Tex-Mex cuisine restaurant, Rosa's Café, is a short walk from the hotel parking lot.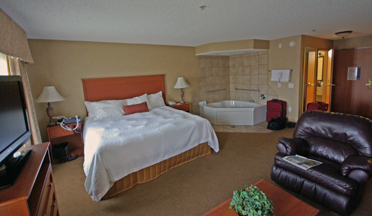 Rooms
Room selection includes guest rooms with a king size bed or two queen beds. There are several types of suites including a king bed studio suite, a king bed studio suite with a whirlpool, a king fireplace studio suite and a two queen beds studio suite. We stayed in the king bed studio suite with a whirlpool. The room was large and offered plenty of room to spread out. A sofa and leather recliner was opposite the king bed. A 32" flat screen television was between the bed and the living room area. A desk separates a small kitchen area that includes a coffeemaker, sink, microwave and small refrigerator from the living room area. A whirlpool tub is in the bedroom area. The size of this room makes it a very comfortable room to spend a night or longer.
Breakfast
A free breakfast is included with the price of your room. Breakfast is served in the dining area. It is self-serve and has two or three hot items, breads and rolls, fruit, cereal, assortment of beverages and make your own waffle.

If you are looking for a base in Temecula to explore the wine region, consider the Hampton Inn & Suites. If you are staying several nights, you may want the extra room in the suites.
Hampton Inn & Suites
28190 Jefferson Avenue
Temecula, CA