Vintage House Hotel
by
Terry Sullivan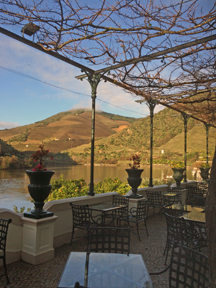 Summary: After a day of wine travel in the Dão and Távora-Varosa, we headed to the Douro Valley for a couple of evenings. We had reservations at the Vintage House Hotel, a wonderful lodging facility for wine enthusiasts. Although dark when we arrived, the following morning we saw the beautiful terraced landscapes for what the Douro Valley is known.
After a long day of travel we arrived at the Vintage House in Pinhão. Our bus driver had some interesting moments navigating narrow roads and sudden turns. But we arrived close to the entrance and lugged our bags into the hotel. Check-in was simple, and we were soon off to our room. Finding it was a bit of a challenge. The hotel is a maze so we traveled down a hall, up an incline, turned a corner, went down an incline, made a couple more turns and we arrived.
Our Room
We had a standard room with a balcony that offered panoramic views of the Douro River and the gently terraced rolling hills. We saw the beautiful setting for this hotel the following morning. Our balcony was small, but since it was raining most of the time when we were in the hotel we did not take advantage of the balcony. Our room was approximately 35 square meters (377 square feet). Our room had a king-size bed, LCD television with plenty of channels in English and a bathroom with the usual amenities. The free Wifi worked well for us.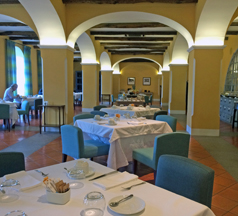 Our breakfast was included and was in the breakfast area. We had a huge choice of items. My usual breakfast included salmon and another smoked fish, eggs, potatoes, bread and hot black tea. There was also an assortment of fruit such as kiwi, melon, pineapple and orange slices. There was an assortment of bread, rolls and pastries.
Even during our late March visit, the landscape was stunning. The vines had been pruned and were generally only a foot above the soil. During this time of the year you can easily observe the architecture of the vines as well as the terraces. The hotel is very close to the river, and some guests arrive by boat.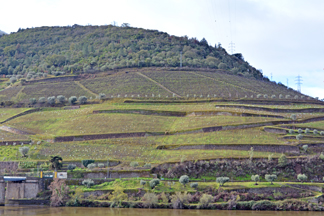 Wine Tourism
As far as the eye can see there are terraces on the hillsides and grapevines growing on the terraces. The Vintage House makes a wonderful base for wine enthusiasts who wish to explore the wineries in this region of Portugal. One winery is a twelve minute walk from the hotel. There are many more wineries with a 30-minute drive and even more within an hour drive. We visited Quinta do Portal in the morning and had lunch at their restaurant. Later in the afternoon we visited Quinta do Noval.
Read articles about Portuguese wineries.

The Vintage House Douro
R. António Manuel Saraiva 4, 5085-034
Pinhão, Portugal
Article written April 2018.