Hotel Santa Justa
by
Terry Sullivan

Summary: Centrally located in Lisbon only a half hour from the airport, Hotel Santa Justa offers a great base for exploring the wineries in the surrounding regions as well as taking in what Lisbon has to offer.
On the first leg of our wine journey in Portugal, we spent four nights at Hotel Santa Justa in Lisbon. The hotel was centrally located and made a perfect base to visit wineries to the south in Peninsula de Setúbal and Comporta as well as wineries in the north in Colares, Alenquer and Torres Vedras. The hotel entrance is along a cobblestone side street. Along this street, restaurants flanked the street. There are many opportunities to find meals including a restaurant in the hotel.
The hotel is only 9.7 kilometers (a little over six miles) from the airport. Check-in was easy and the staff was friendly and helpful. At the desk, one of the staff members kindly explained the difference between obrigado and obrigada, both of which mean "thank you" in Portuguese.
Hotel Santa Justa was the first hotel we stayed in that offered a free mini-bar in each room. It was restocked each day. We took advantage of the water and fruit juices. The hotel also offered free Wifi that worked well in our room.
Another pleasant surprise was when we returned to our room after dinner on our first night. There were two wine glasses and a complimentary 20 cl bottle of a tawny port, just enough for two people to share.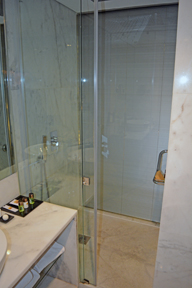 Our Room
We had a double comfort room. The room was approximately 22 square meters (about 237 square feet) and did have a small balcony. We did not get a chance to use the balcony since it rained most of the time we were at the hotel. The king-size bed was comfortable and the room was very quiet. The room also had a desk and chair and small circular table with a chair. The LED TV had plenty of channels, many in English.
The bathroom was large with a long counter space and walk-in shower. The shower was equipped with an overhead rain water shower and had a handheld nozzle. The bathroom had the usual amenities including shampoo, body wash and body lotion. It also had a comb and a bath sponge.
One of the surprises in our room were the electrical outlets. These included the European outlets, US outlets and UK outlets. We found that we did not need to use adapters for our electrical equipment.
Breakfast
Our breakfast was included. There were plenty of options including fried eggs, scrambled eggs, meats, seafood, and all sorts of breads and rolls. Fresh fruit was also available.
Read articles about Portuguese wineries.

Santa Justa Hotel
Rua dos Correeiros, 204
1100-170 Lisboa - Portugal
Article written April 2018.