UNA Hotel Il Molino
by
Terry Sullivan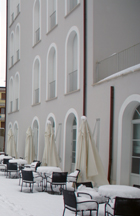 We made our way from Villa Matilde Winery to the town of Benevento on one of the snowiest days in the last century to blanket Campania in white. The normal 1 1/2 hour ride lasted for hours as traffic came to a stop in many places especially at the bottom of hills. Our bus driver was fearless though, as the bus had no problems climbing up snow covered roads. The scenery was beautiful, however other motorists probably didn't think so. Eventually our bus pulled into Benevento and up to the new UNA Hotel Il Molino.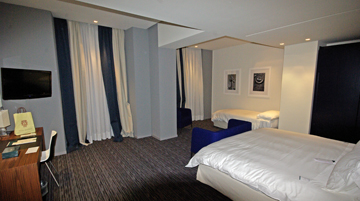 Check-in was easy and we were off to our room to freshen up before dinner. The first thing I noticed was the elevator's panel. Rather than a button to push, one pressed a flat screen. This was sleek and cool. Our room was quite spacious. There was a queen-size bed as well as a twin bed in a corner of the room. A large desk area provided room for the computers. A flat panel television was mounted to the wall diagonal from a love seat.
The bathroom was also spacious with more amenities than the industry standard. There was an additional box of items for me including aftershave balm, hair gel and hand cream. Kathy had a box with different contents. There were little things that the vast majority of hotels ignore such as a razor and shaving cream and emory boards. With the snow falling outside, the UNA Hotel was well on its way to pamper our group.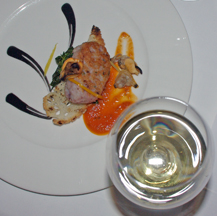 Dinner was in the Le Macine Restaurant where Executive Chef Angelo D'Amico dazzled our group with a culinary delight. The food was paired with several wines from the Campania region. Courses included:
Crispy polenta served with a beef meatball,
Squid sausage on thick toasted bread with tomato "pizzaiola" sauce,
Tortello of caciocavallo cheese with smooth cream of paestum artichokes,
Slow cooked marchigiana beef with caramelized onions and potatoes,
Frozen biscuit with creamy ricotta citrus fruits and caramel.
We tasted many of the wines. The 2010 Fiano di Avellino by Terredora was a straw color with floral and mineral notes on the aroma and taste. The finish was crisp with a lingering mineral aftertaste. The 2009 Fiorduva by Marisa Cuomo was a light yellow color. The wine was a blend of Ripoli, Fenile and Ginestra. The aroma was floral and mineral. There were yellow stone fruit nuances on the taste with a slight hint of petro. The wine delights the tongue. Fiano di Baal 2010 by Casa di Baal was a straw color. The aroma and taste reminded me of green floral stems. The wine had a crisp finish and long floral aftertaste. The 2010 Kléos by Maffini was a dark ruby wine made from Aglianico. It offered dark fruits, minerals and had a crispy finish.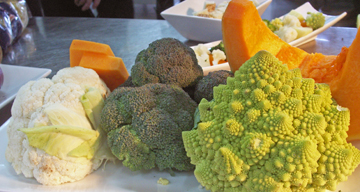 After a few hours we headed to our room to catch up on writing and sleep. The next morning we were somewhat snowed in. The police did not want people on the roads until later in the day and two of the three roads leading to Napoli our next destination were closed. We had a leasurely breakfast followed by a presentation by Daniela Mastroberardino about the Movimento Turismo del Vino Campania. Daniela took care of our group while we were in Campania. She worked tirelessly with her group behind the scenes changing our itinerary on a moments notice. Daniela and UNA Hotel came through with a cooking demonstration that turned out being one of the highlights of our eight-day tour.
Executive Chef Angelo D'Amico invited our group into his kitchen where he demonstrated how he makes two courses with fresh local ingredients. The chef must have felt like a rock star surrounded by paparazzi as our group took hundreds of photos.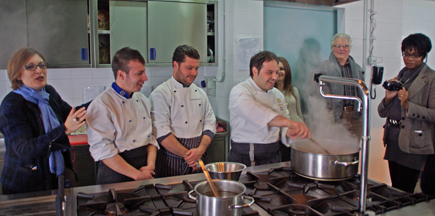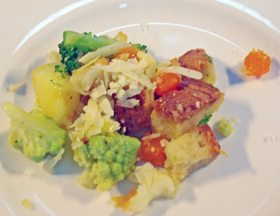 A display of local Campania produce was available to photograph. While most are common, a beautiful green vegetable somewhat similar to broccoli was displayed. The color was lighter and brighter than broccoli and the shape was very artistic. A photo of this vegetable would look delightful in anyone's kitchen.
Carefully watching Chef D'Amico one realized that he is a true chef. The two dishes he made for our group were made without a measuring spoon or cup in sight. The first dish prepared was a pasta dish. Chef D'Amico uses a Rummo pasta that is a combination of ten different pastas. Rummo pasta is made in Campania.
Our first dish included olive oil, anchovies, onions, potatoes and pasta. The ingredients in the next dish included carrots, broccoli, large bread cubes and potatoes. Both creations by Chef D'Amico were delicious especially on a cold, snowy day.
Several wines were available while we were eating. The one with the Wow! factor was the Maiatico by Moio. This dark ruby wine was made from Primitivo grapes. There was plenty of dark fruit with a crisp finish that had tannins and fruit. At 14.5% alcohol there was no trace of burn. The wine was simply delicious.
Kudos to Chef D'Amico for allowing a group of virtual strangers into his kitchen.
UNO Hotel really came through with a great event for a snowy day. Wine travelers may want to stay at this hotel and use it as a base for exploring local wineries.
UNA Hotel Il Molino
Via dei Mulini 48
I - 82100 Benevento, Italy