Hotel Giò, Perugia, Italy
by
Kathy Sullivan
February, 2012. Hotel Giò in Perugia, Italy was the site of the International Wine Tourism Conference for 2012. This hotel is rated as a five star hotel. The structure of the facility is quite unlike anywhere we have had lodging. The building is separated into two sections. A long enclosed hall connects the two sections. The hallway with sliding glass doors at each end is decorated with music memorabilia and the floor has large piano keys decorating it. The Jazz section of the hotel focuses on music and décor highlights musical instruments. The other lodging section focuses on wine with numerous wine related reminders decorating the facility.
WINE area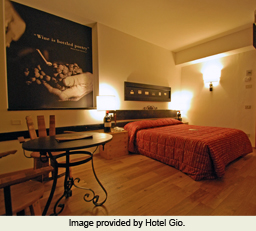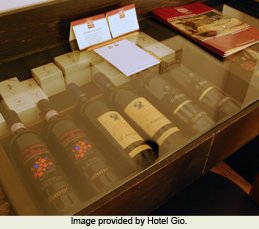 On the first floor (level 0) in Italy, a wine bar and seating is available. Buses and vans can easily pull up to the outside door while tourists board for an excursion near Perugia. One of the striking attributes of the Wine facility was the elevator that was lined with ends of wood wine bottle cases. It was delightful. Another unique feature for the Wine area was the room key off which dangled a very large cork. It would be very difficult to lose the key with this cork on it.
Our room for the conference was in the Wine area. It was a spacious room with sitting and relaxing area and a bedroom area. A long desk was in the bedroom area. A unique section of the desk was covered with glass with wine bottles below the glass. The bathroom was also large.
JAZZ area
The music section has a conference area and hotel guest rooms. Nearby the registration desk, several seating areas are available and provide a cozy spot for an intimate conversation. Pianos are displayed in this area. I wondered if anyone ever played the piano during the evening. Wide steps lead down to a lower level where conferences and small meetings are scheduled. Rooms were well marked making it easy to locate the different sessions of the International Wine Tourism Conference.
Restaurant
Breakfasts were in an area close to rooms in both the Wine area and Jazz area. Breakfast was provided by buffet style. A large dining area is available for conference attendees in the Jazz area at the Hotel Gio. A unique feature was the placemats that are old records. What an incredible use for recycling old LPs. Lunches could be provided by full service or buffet style. The first day lunch was full service. It was delightful however the lunch took much longer than anticipated. During the next two days, conference attendees took plates and wine glasses to tables and were served by the staff.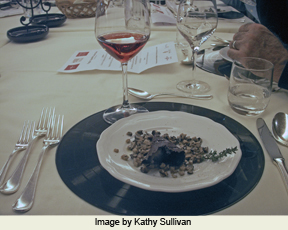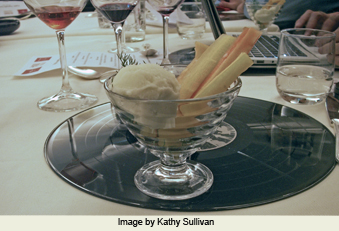 Whether you are interested in wine or music, Hotel Giò offers a themed experience.