Agriturismo L'uva e le Stelle
by
Terry Sullivan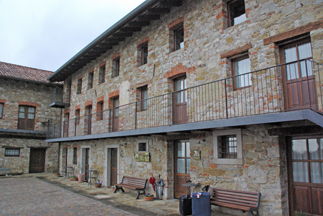 Summary: After another day of winery visits and great food, we arrived after 23:00 to our lodging site Agriturismo L'uva e le Stelle. It was too dark to appreciate the surroundings, that would have to wait until daylight. We did, however appreciate our large apartment. By early morning we didn't want to leave.
Arriving at Agriturismo L'uva e le Stelle late at night didn't seem to bother Daniela Comelli who took our passports and gave us keys to our apartments. Kathy and I were in the older section built out of stone. Even though dark, we were anticipating the morning. Our apartment was on the second floor. As soon as we opened the door I thought that we would have to return here someday and spend several days and nights.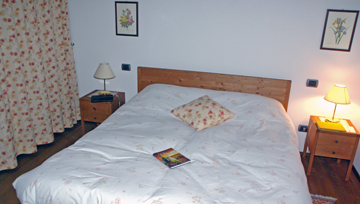 Apartment
Entering the apartment we saw a living room area with sofa, a fully equipped kitchen and kitchen table. There was even a wood-burning stove. The next room was the bedroom with a comfortable queen-size bed, nightstands and armoire. The bathroom was adjacent to the bedroom. It didn't take long before sleep overtook; discovery would have to wait for the morning.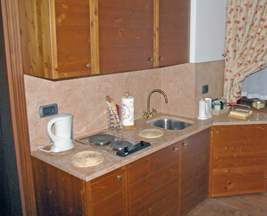 My first routine upon waking in the early morning is to make a cup of tea. Walking to the kitchen, I discovered a hot water heater and an assortment of tea bags. I was delighted. This was the first opportunity to make an early morning cup of tea in over a week. The kitchen table had a basket of apples, a bottle of wine and two glasses.
The apartment is perfect for a couple. It has enough space to stretch out and a homey atmosphere. It would make a perfect base for exploring the area by automobile, bike or foot.
Breakfast
Breakfast was in the same building on the ground floor level. Kathy and I took a moment to admire the view from our second floor apartment. The rolling hills, olive trees and dormant vineyards were beautiful even on a cloudy March day. Before entering the ancient Friulian building we noticed a ceremic scene hanging in the stone wall. The scene showed vineyards, a house and harvest.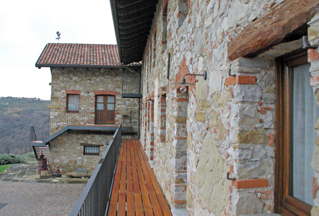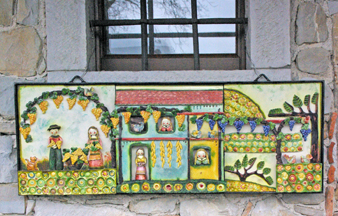 Breakfast was in a room with a long table. Fresh fruits, cheese, thinly sliced ham, as well as a homemade tart and rolls were spread out for the group. We also had an assortment of tea and coffee. During breakfast, Pierluigi and Daniela Comelli joined us. The owners of Agriturismo L'uva e le Stelle are charming and are the perfect hosts.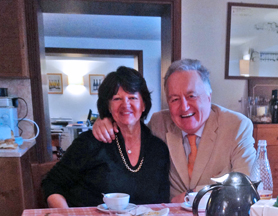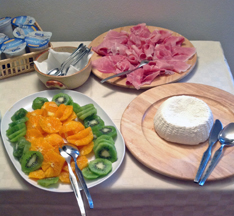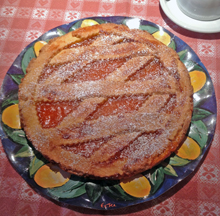 Discovery
Taking a moment to walk the grounds, I discovered that in addition to the bed and breakfast, there was also an onsite winery. The winery building stretched under the street above. It was a showcase for new technology as well as old world traditions. I asked Daniela about the winery and soon was tasting Comelli wines. We learned that the Comellis also make olive oil from their 600 olive trees. Close to one of their buildings, a 15th century church, the Church of Saints John and Paul still stands.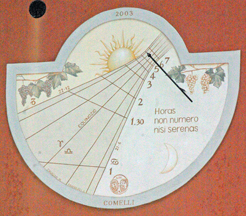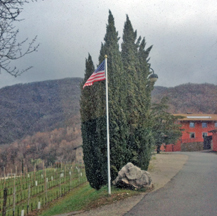 On a new building that has apartments, there was an image representing the meridian. The image had the sun, grapevines, moon, Comelli logo, and longitude and latitude lines. Written on the image were the words, "Horas non numero nisi serenas." Translated from Latin, it means, "I don't count the hours unless they're tranquil." Some translate serenas as serene or sunny. Perhaps this saying best represents the feeling of ambiance we experienced at Agriturismo L'uva e le Stelle that day.
As our bus left the property we discovered another tribute that the owners displayed. A United States flag flew from the flag pole at the entrance. Agriturismo L'uva e le Stelle is a very welcoming place.
Comelli Winery article
Agriturismo L'uva e le Stelle
Case Colloredo, 8
33040 Faedis (Ud) - Italy
Article written March 2013