Terra & Vini
by
Terry Sullivan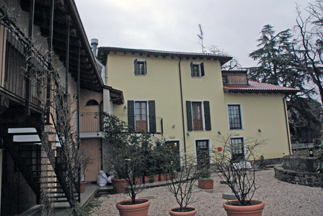 We arrived at Terra & Vini (Land and Wines) late at night after a packed day at the International Wine Tourism Conference in Zagreb, Croatia, a bus ride to the Friuli region of Italy and a scrumptious meal at La Subida. Terra & Vini is an inn and tavern. Part of our group would spend two nights at the inn. We were given a key and helped with our luggage up a partial spiral staircase to our room on the second floor of a connecting building.
The inn is located in the village of Brazzano just a couple of kilometers from the larger Cormons. Since it was late, we decided to retire for the evening and do our exploring during the daylight hours. The seven guest rooms are all different and individually named. Our room was the Bacca Bianca (White Berry) room. It was divided into three rooms on two levels. On the entrance level there was an area with an armoire and an adjacent room with a table and dresser. Down a couple of steps was a queen-size bed. The bathroom was a separate room also on the lower level. Exposed wood beams added contrast to the light colored walls and ceiling.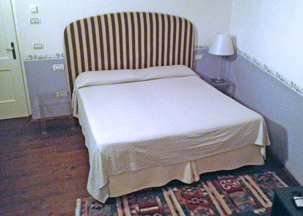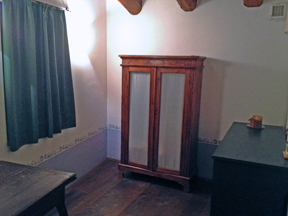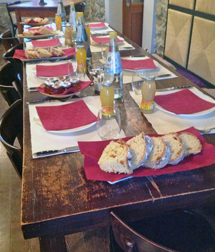 After a good night's rest, we headed to the tavern for breakfast. Several tables of different sizes can be arranged in the tavern or osteria. Our group was seated at a long table. When we arrived there was already juice, water, pastries and jams on the table. We could order coffee and tea. Our schedule had us returning to the osteria for lunch.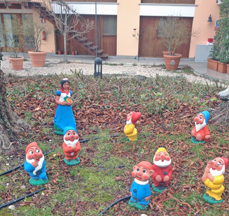 Outside the osteria there is a stone courtyard with several dormant plants in different sizes of pots. At the end of our building, sleeping grapevines await warmer temperatures. Kathy walked around the courtyard in a gentle rain and discovered the Disney characters Snow White and the seven dwarfs. All the dwarfs were smiling despite the overcast and light rain.
Terra & Vini is a result of the hard work and leadership of Elda Felluga. Elda wanted to create an osteria to fill the gastronomic gap in the farming community of Brazzano. Inside the restaurant, sections of the original building's stone walls have been beautifully restored. The osteria offers a traditional menu from a Friuli osteria. Patrons have the opportunity to eat and drink local. The Livio Felluga Winery is just a four minute walk from Terra & Vini.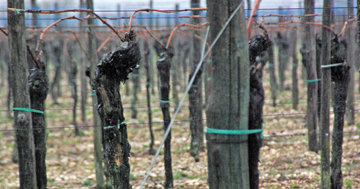 Terra & Vini offers country charm in a quiet village. Vineyards back up to the guest rooms reminding that you are in wine country. This is an ideal setting for wine, food and a room to spend the night.
Livio Felluga Winery article
Terra & Vini
Via XXIV Maggio, 34
34071 Brazzano di Cormons - Gorizia - Italy
Article written March 2013