Moonlight on the Lake Bed and Breakfast
by
Terry and Kathy Sullivan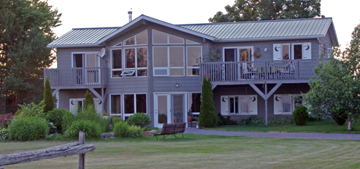 For wine enthusiasts wishing to visit the wineries in Prince Edward County, Ontario, there is a wonderful gem on the shores of Lake Ontario that offers the ideal base to explore wine country. Moonlight on the Lake Bed and Breakfast is run as a second career by retired restaurateur, André Giroux and chef, Suzanne LaFrance. The couple welcomes and enjoys having guests to their home.
André and Suzanne are delightful hosts and enjoy conversing with their guests sharing their experiences. André enjoys wine and sharing his knowledge and experiences in the vineyard and about home winemaking. Suzanne enjoys cooking and reading and enjoys discussing the books she reads.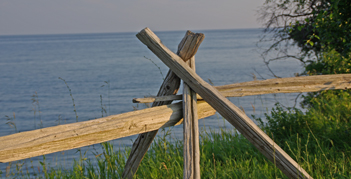 As a chef, Suzanne knows wine having ordered the wines for their restaurant. André tends his .75-acre vineyard, makes wine with the grapes and works at a local winery's tasting room. The charm of Moonlight on the Lake Bed and Breakfast doesn't evolve totally around wine though, guests will find peace and serenity often needed to recharge. Walk across the spacious front yard, cross the road and take a seat in one of the several chairs on a cliff overlooking Lake Ontario. Of course a glass of wine can help establish the mood of the setting. One can spend hours waiting for nightfall. Readers will find this a peaceful spot to explore chapters in a favorite book.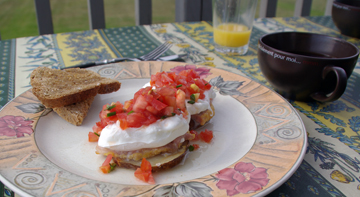 Amble through the vineyards in the morning or stroll along Lake Ontario. Be sure to enjoy the colorful gardens that are maintained on the property. André and Suzanne have the proverbial "green thumb." A small garden pond with several lawn chairs is located near the quest quarters. Not far away a gazebo is another spot to enjoy. Guests can return to a gourmet breakfast prepared by Suzanne. Examples of what she makes includes a spectacular breakfast dish that included a slice of potato, slice of Canadian bacon, poached egg, topped with fresh tomato/basil salsa with sumptuous toast. On another day, guests may be treated to perfect waffles with a choice of sliced fresh strawberries, slice bananas and maple syrup. Breakfast is served on the upper level deck where picturesque views of Lake Ontario are a constant delight.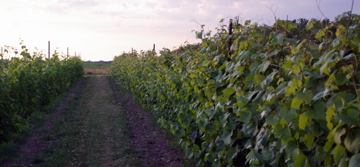 After a delicious breakfast, spend the day at close by wineries, beaches, antique stores and a myriad of other places. Experience dining in Wellington or drive a bit further to Picton or Waupoos.
The bed and breakfast has two rooms with private baths. Enjoy lounging in a library room or watch satellite TV. Moonlight on the Lake Bed and Breakfast provides a perfect base in the heart of Prince Edward County wine country.
Moonlight on the Lake B&B
410 Huyck's Point Road, County Rd 20 
Wellington, Ontario K0K 3L0
(613) 399-5253

GPS: N43º 55.871' W77º 26.362'