Inn at Huff Estates
by
Terry Sullivan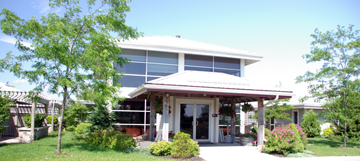 The Inn at Huff Estates offers modern stylish accommodations close to vineyards, the Huff Estates Winery, the Oeno Art Gallery and Sculpture Gardens. We arrived mid-afternoon and enjoyed a wine tasting at the winery before checking in to the Inn. Guest can choose one of 21 rooms in three styles: a deluxe room, a premiere suite or the winemaker's suite.
Deluxe Room
We had the deluxe room. The room had two double beds, a bath with glass block shower and a sitting area with fireplace, LCD TV, small refrigerator and Internet. A private garden patio extends the living area to the outdoors. Beyond the patio, a small waterfall added to the ambiance of the patio. The L-shaped room had plenty of room to move about.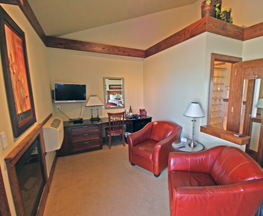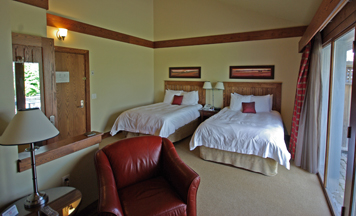 The premiere suites separate the bedroom from the living room area. They have a king-sized bed and whirlpool tub. The winemaker's suite also has a separate living room and bedroom. Additionally it has a dining room area for up to six guests. The living room has a 42-inch television and floor to ceiling limestone surrounded fireplace. The bedroom has a king-sized bed and 27-inch television.
A breakfast is served adjacent to the lobby. Guests had a choice of several breakfast items including egg wraps, sausage, bacon, scrambled eggs, fresh fruit, cereals and waffles. Coffee, tea and juice are available throughout the day. Although there is a dining area with several tables and chairs, if the weather is nice some guests prefer to have their breakfast on the patio. Our patio was only steps from the breakfast area.
The setting for the Inn at Huff Estates offers the perfect get-a-way for exploring wine country in Prince Edward County. The Huff Estates on-site vineyards are just a minute walk from the Inn. The winery is close enough for walking. Several other wineries are an easy drive from the Inn. The Inn at Huff Estates is a three to five-hour drive from Toronto, Ottawa and Montreal in Canada and Syracuse and Buffalo, New York.
Inn at Huff Estates
2274 County Road 1
Bloomfield, Ontario, Canada K0K 1G0
Related article: Huff Estates Winery