Hilton Garden Inn - Niagara-on-the-Lake
by
Terry Sullivan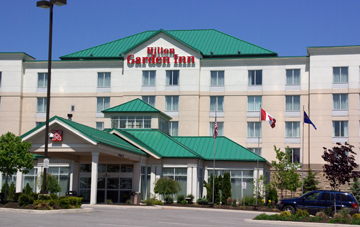 The location of the Hilton Garden Inn on York Road is close to area wineries both in the Niagara-on-the-Lake region and the Vineland, Jordan, St. Catherines region of Ontario. This hotel made the perfect base for the more than forty wineries in these two regions. It is also close to Niagara Falls and the quaint town of Niagara-on-the-Lake. It's location, just off the QEW makes travel throughout the area easy. Traveling to the wineries scattered throughout the Niagara-on the-Lake region was a pleasure. At times every turn you make leads to another vineyard.
This Hilton Garden Inn has the familiar design of other Hilton Garden Inns. The entrance leads to a large bright area that has a fireplace and seating area to one side and restaurant and bar on the other side. We stayed at this hotel twice during our winery travels throughout Ontario. Both times we had a comfortable clean room with plenty of space. The staff was friendly and reminded us to get the freshly baked cookies quickly. The hotel puts out a tray of delicious cookies during early evening. They don't last long.
We decided to eat dinner at the hotel's Great North American Grill™. We were pleasantly surprised to note that the wine list had many local wines from wineries in the Niagara-on-the-Lake region. About seventy-five percent of the wine list was local wines. This Hilton Garden Inn does an excellent job of supporting the local wineries. We were also surprised that our meals were served hot. One should expect this at a restaurant but it was noticeable at this restaurant.
Convenience and ease make this Hilton Garden Inn a great base for your winery travels.
500 York Road
Niagara-on-the-Lake, Ontario
L0S 1J0
Phone 905-984-4200
Toll free: 866-777-9877
email: sales@hiltongardenniagara.com