Mariners Landing Resort Community and Conference Center
by
Terry Sullivan
Summary: Nestled alongside Smith Mountain Lake in the Blue Ridge Mountains of Virginia, Mariners Landing Resort offers impressive lodging suites. Don't expect the typical hotel suite. These condominiums are large enough to call home, or home away from home. Mariners Landing Resort offers the perfect destination to escape to. The rooms are large and the lake offers beautiful views and water activities. The surrounding mountains present outdoors activities and if you're interested in a city scene, Lynchburg and Roanoke are just an hour away.

The first of three connected buildings that make up the Mariners Landing Resort at The Pointe was completed in 2004. The other two sections were completed in 2005 and 2006. In all there are 150 condominiums that can be rented. Prices are comparable to staying in a hotel. But the condominiums offer a significantly larger amount of space.
The staff at Mariners Landing believes in manufacturing fun. They realize that when people step onto the property they are looking to have a good time. There are many events throughout the year. Some are business events while others are for the guests. Winery travelers can ride a bus from Mariners Landing to the surrounding wineries. This is one of the most popular day trip events. An on-site restaurant, Benjamin's, serves dinner Wednesday through Sunday. The restaurant also has special events throughout the year. Benjamin's offers dining in a relaxed atmosphere with views of the lake and mountains.
Mariners Landing is a complete resort. Business meetings to conferences can be scheduled. Weddings are also popular. Wedding guests can enjoy excellent accommodations and the setting for weddings is memorable.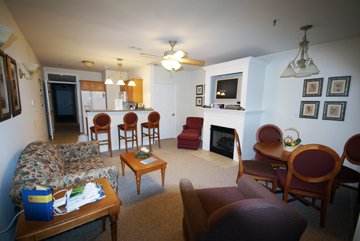 Two-Bedroom Condominium
We stayed in a two-bedroom condominium. Mariners Landing also offers one-bedroom and three-bedroom condominiums. Upon entering our condo, we were in a long hallway. Off the hallway were two bedrooms with queen-size beds. One had its own private bathroom while the other had a bathroom that was accessed from the bedroom and living room area. A washer and dryer are accessible through another doorway off the hall.
At the end of the hallway, one enters the kitchen, dining area and living room area. The kitchen has a full-size refrigerator, freezer, range, microwave and dishwasher. Plates, utensils, knives and saucepans are available for use. Our kitchen had more than 40 square feet of working area so two people could easily work in the kitchen without bumping into each other. A three-person bar separates the kitchen from the living room area.
The combination living room/dining room area has a fireplace as a focal point. At the end of the area there is an enclosed balcony with picturesque views of Smith Mountain Lake. The balcony has a table with four chairs. Balcony windows can be opened during warmer weather. Light floods the balcony, living room/dining room area and kitchen. A loveseat and two chairs in the living room area accompany a table and four chairs in the dining area.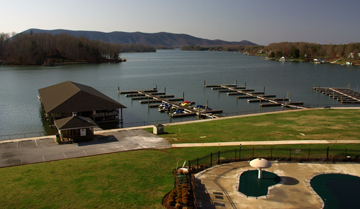 Smith Mountain Lake
The Blackwater River and Roanoke River were damned up between 1963 and 1966 to create Smith Mountain Lake in order to generate electricity. The lake has some impressive statistics including 500 miles of shoreline. At 795 feet above sea level and surrounded by mountains, this lake is a scenic jewel. It covers about 20,600 acres and is home to about 18,000 permanent residents.
For the Wine Enthusiast
The five wineries that make up the Bedford Wine Trail are within a 20 to 50 minute drive from the resort. This makes the resort a perfect destination for one's base from which to visit wineries. Within an hour and twenty-minute drive, winery travelers can reach the wineries near Roanoke.
Bedford Wine Trail Wineries
Hickory Hill Vineyards and Winery
Savoy-Lee Vineyard and Winery
White Rock Vineyards and Winery
LeoGrande Vineyards and Winery
Peaks of Otter Winery
Mariners Landing Resort Community and Conference Center
1217 Graves Harbor Trail
Huddleston, Virginia 24104
540-296-1259