Sol i Vi
by
Terry Sullivan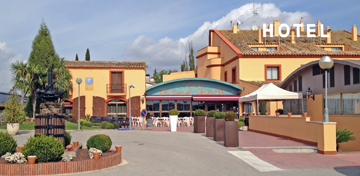 Summary: Sol i Vi is Catalan for sunshine and wine, a perfect name for a hotel in the Penedés region of Catalonia. This is cava area where the sparkling wine is crafted. The hotel is in a former Catalan farmhouse surrounded by vineyards. The hotel makes a perfect base for exploring wineries in the area.
The Gisbert Aguilar family founded the hotel and restaurant in 1972. Three generations of the family have worked here over the past forty years. The hotel provides basic needs in a comfortable room. The draw of this site is the restaurant and setting. Surrounded by vineyards gives a wine country theme that continues in the restaurant.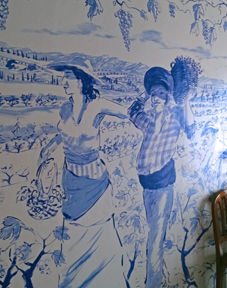 Our Room
Our room had two beds including a double and twin. The focal point of the room was the mural on the wall depicting a grape harvest. Each room has a different mural depicting different aspects of wine growing. Our mural in shades of blue and white showed men and women with baskets filled with grapes. Although her basket was full, one of the harvesters was reaching for another cluster of grapes. A television mounted to the wall near the ceiling in a corner did interrupt the mural as did a wardrobe at the other end.The mural was large enough to convey the wine country theme.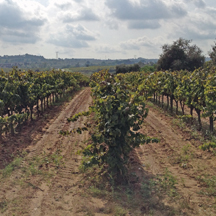 Two chairs and a desk as well as end tables completed the furniture in the room. The furniture conveyed a simple farm house feeling, appropriate for this former Catalan farmhouse. Outside the sliding glass doors there is a small balcony. Standing, one can see the hotel building and adjacent vineyards.
The bathroom had soap, as well as a combination shampoo and soap in dispensers. There were toothbrushes and toothpaste which are always a welcome amenity. The room is comfortable for sleeping but too small for working. If you wish to spend a considerable time working, the restaurant is a good choice.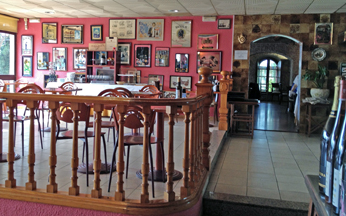 The Restaurant
The restaurant is the pride of Sol i Vi. They offer several Catalan dishes and Mediterranean fare. Sol i Vi does not skimp on the wine list. It is rather impressive. They offer over sixty Cavas and 75 wines from the Penedés DO. Miquel Gisbert commented that they encourage patrons to try the Penedés DO wines and the Cava DO wines. There are also wines from other areas of Catalonia, other Spanish wine regions and France. Miquel smiles and said, "Our cavas are better."
There are several areas of the restaurant that together can seat over 1,000 people. Weddings, receptions and group functions can utilize the Sol i Vi restaurant. Breakfast is served in the breakfast room close to the check-in desk (pictured). Our breakfast included meats, cheese, different breads, rolls and fruit. Orange juice, coffee and tea were also served.
When visiting wineries in the Penedés region, consider spending the night. Sol i Vi offers basic accomodations in the heart of wine country.
Sol i Vi
Ctra San Sadurní Vilafranca, Km. 4
Lavern 08739
Subirats - Barcelona
Article written October 2014