Open in new window to print
Title: Pan Seared Halibut
(saffron cous cous, French beans, cherry tomatoes, and English pea sauce)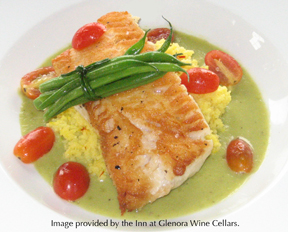 Ingredients
4 each 8 oz portion of Halibut
2 tablespoon virgin olive oil
1 cup vegetable stock
1 cup cous cous
¼ teaspoon saffron
1 tablespoon extra virgin olive oil
To taste salt and pepper
1 cup peas
1 teaspoon minced garlic
1 teaspoon minced shallots
2 cups heavy cream
To taste salt and pepper
½ pound French beans
1 tablespoon butter
1 pint cherry tomatoes
To taste salt and pepper

Directions
1. Put the vegetable stock, saffron, and extra virgin olive oil in a small pot and bring to a boil.
2. Place the cous cous in a bowl. Once the stock has come to a boil add to cous cous and cover bowl with plastic and let sit for approximately ten minutes.
3. Next take a fork and fluff the cous cous and season with salt and pepper.
4. For the pea sauce, sweat out the garlic and shallots in a small sauce pan for about five minutes then add in your heavy cream let it come up to a simmer.
5. Once the cream comes to a simmer add the peas and simmer for about two minutes.
6. Take the mixture off the stove and puree in the blender then season with salt and pepper.
7. Wash the cherry tomatoes and cut length wise.
8. For the French beans, clip off the steam end and wash.
9. In a sauté pan, add your butter and French beans in a medium high heat.
10. Cook for approximately four minutes then add the cherry tomatoes cook for another two minutes then season to taste with salt and pepper.
11. Heat a large sauté pan to a medium high heat with virgin olive oil.
12. Place the halibut in the pan and sear for approximately four minutes. Then place in 400 degree oven for ten minutes.
13. Arrangement of plate: mirror the bottom of the plate with the pea sauce. Then but the cous cous in center of the plate, place the halibut on top of the cous cous. Next place the vegetable around the out skirts of the fish and serve.
Suggested wine pairing: Glenora Vintner's Select Dry Riesling
Yields: 4 people
Recipe provided by Veraisons Restaurant, Inn at Glenora Wine Cellars, Dundee, New York.