Homewood Suites by Hilton
Allentown-West/Fogelsville, Pennsylvania
by Terry Sullivan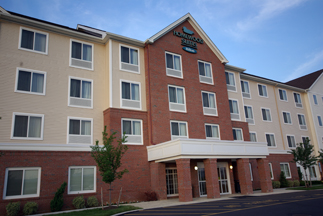 Homewood Suites by Hilton is a home away from home and the Allentown-West/Fogelsville Homewood Suites is a perfect base to explore nearby wineries in Lehigh Valley and Berks County. We had a one-bedroom suite that offered plenty of space to spread out.
One-bedroom Suite
The fully equipped kitchen had a standard sized refrigerator/freezer, dishwasher and microwave. A two-burner stove and sink are on opposite ends of the kitchen counter area. Fiestaware plates, bowls, cups and glassware as well as kitchenware provide for cooking needs. However one need not prepare food. The hotel offers a daily hot breakfast and light dinner from Monday through Thursday evenings.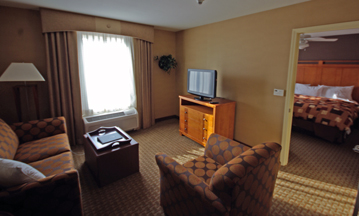 The living room area has a sofa and side chair. A hassock offers a footrest while reading or watching television. An LG flat panel television has many channels including HBO HD. A small table separates the kitchen area from the living room area. The bedroom has a king-sized bed, dresser area and another flat panel television. The two-room bathroom area is adjacent to the bedroom.
Wine Lovers
A special Wine Away Weekend Night Get-a-Way is offered to wine enthusiasts. The package includes a one-night's stay in a one-bedroom suite, wine tote, two Homewood Suites wine glasses, a logo wine opener, directions to wineries, a 10% off coupon at the wineries and a cheese and fruit tray for two. The partner wineries include Vynecrest, Clover Hill, Pinnacle Ridge and Blair. These four wineries are west of the hotel. It will take about 50 minutes to drive the twenty miles between the hotel and the four wineries.
Other wineries are also close by. A forty-five minute drive northwest of the hotel will take wine travelers to Blue Mountain Vineyards and Cellar and Galen Glen Vineyard and Winery. A 53-minute drive east of the hotel takes travelers to Amore Vineyards & Winery and Franklin Hills Winery. For the die-hard wine enthusiasts, travel to the wineries on the Lehigh Valley Wine Trail and the Berks County Wine Trail.
Homewood Suites offers a perfect location to explore the wineries of the region. Whether you spend the evening or several days, enjoy the comfortable room where you can spread out while savoring memories of vineyards and wine.
Homewood Suites
7686 Industrial Blvd/Route 100
Allentown, Pennsylvania