Hilton Garden Inn - Kennett Square
by Terry Sullivan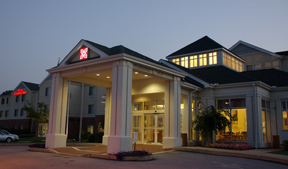 The Hilton Garden Inn in Kennett Square is conveniently located off US Route 1 in Kennett Square, Pennsylvania. This was the first of many Hilton Garden Inns that we have stayed. The entrance is bright and airy. The check-in personal was friendly and made us fell welcome. Our room was spacious. I immediately noticed a large plant in the room and thought that it added to the garden theme of the hotel chain. However not all Hilton Garden Inns that we stayed had floral or plant arrangements. Our room had a microwave and small refrigerator. The bathroom was clean and well stocked with amenities.
I was pleasantly surprised by the excellent breakfast that we ate. The chef takes pride in the omelets and other dishes he prepares. I had an omelet with everything and it was perfectly prepared. My next surprise was the wine that was available for purchase. Several local wineries had their wines available. The restaurant is only open fro breakfast, however there is an Applebee's Bar & Grill adjacent to the hotel parking area.
The location of this Hilton Garden Inn is ideal if you want to visit several local wineries. Seven wineries make up the Brandywine Valley Wine Trail. The hotel is just minutes from Longwood Gardens, Brandywine River Museum and several other local attractions. The Winterthur Museum and Country Estate is about a fifteen-minute drive.
This clean friendly hotel is an ideal location to be a base for visiting Pennsylvania's Brandywine Valley.
815 E. Baltimore Pike
Kennett Square, Pennsylvania 19348
Phone (610)-444-9100 Fax (610)-765-1029
More Information