Donna's Governor's Inn Bed and Breakfast
by Terry Sullivan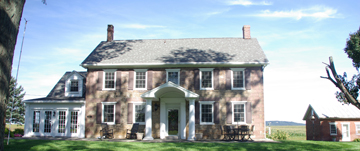 September, 2011. Situated among the rolling hills of Dover, Pennsylvania is a delightful bed and breakfast. Donna's Governor's Inn Bed and Breakfast is centrally located between wineries and history. The inn itself has a long history. It was built in 1774 on land William Penn granted to Captain John Sharp in 1753. The house was built in the Georgian style emphasized by its symmetry, chimneys, windows, porch and central stairwell.
We drove behind the house and parked by the attached garage. We were met by owner, Donna Reeser and her Maltese dog, Marshmallow. It only took a moment to discovering how endearing Marshmallow is. We spent time chatting with Donna in the sun room, one of the few rooms added on to the historic site. After tea and a snack, we toured the house and settled into our room.
The sun room is a common area as is the kitchen, parlor and dining room. There are plenty of areas to relax and observe 18th century architecture and craftsmanship. The central stairwell divides the parlor from the dining area. On the second floor two room areas are for visitors. One room is large and has a king-sized bed. A large bathroom is adjacent to this room. The other room is a suite including a sitting area and large bedroom with a queen-sized bed. A small bathroom is accessed from the bedroom.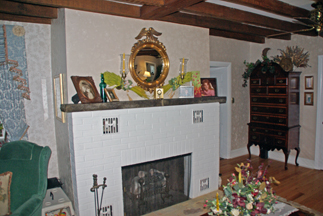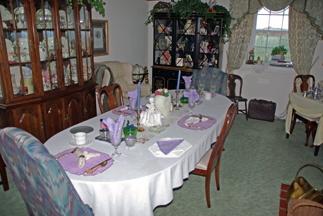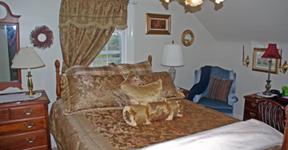 We spent the night in the suite. The sitting area had plenty of room to spread out and the wireless Internet worked well. The beautifully appointed bedroom has a desk, dressers and queen-sized bed. There is more than enough storage space even for longer stays. The private bathroom is only entered from the bedroom. The room is comfortable and guests can count on a good night's sleep.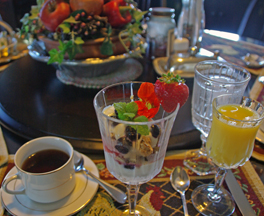 Although we could have been served breakfast in the formal dining room, we opted for the kitchen. We were able to talk with Donna while holding and petting Marshmallow. There were numerous beverages available and we chose tea and orange juice. A delicious fruit and yogurt combination was the first breakfast course. The main course was stuffed French toast. It was absolutely delicious. Donna also served a tray of perfectly cooked bacon. Although the breakfast could have taken about thirty minutes we talked and ate while an hour and a half flew by.
Donna's Governor's Inn Bed and Breakfast is a very clean and relaxing bed and breakfast on historic property. The property is near the center of the wineries that are members of the Mason-Dixon Wine Trail. The inn would make a good base for discovering the wineries and discovering the area's history.
Donna's Governor's Inn Bed & Breakfast
3205 W Canal Road
Dover, Pennsylvania 17315
717-467-1774
GPS: N39º 59.043' W76º 52.202'