Zenit Hotel Balaton
by
Terry Sullivan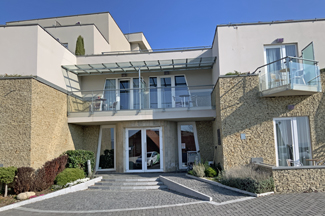 Summary: Nestled on a hillside with views of Lake Balaton and close to the Balaton Uplands National Park, wine enthusiasts can relax at Zenit Hotel Balaton. This four star hotel offers modern comfortable rooms, the Bock Bistro Restaurant and a wellness center. The hotel is in a great location for wine travelers wishing to explore the area's wineries.
We arrived at Zenit Hotel Balaton and decided to go to the restaurant first. The Bock Bistro specializes in local Hungarian cuisine. Even though there was an event in one section of the restaurant, the section that we were in was quiet and allowed us to reflect on our wine journey during the day.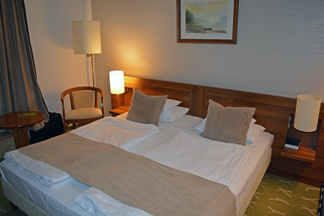 Our Room
After dinner we retired to our room. The room had a modern decor with a queen-sized bed. The dark honey-toned wood contrasted with the light colored walls in the room offering a pleasing atmosphere. Our room had an outdoor patio. Kathy spent some early morning time in the sunshine while sitting at a small table on the patio. Our room also had a chair and small round table. Along the wall, opposite the bed, there was a desk area. To the side of the desk there was a hot water maker, perfect for providing us with hot water to brew tea. Attached to the wood desk was a television that was set into a wood panel.
The electrical outlets in the room are on the side edges of the bed's wood headboard. Outlets are also located on the edges of the wood backboard at the desk. All the outlets are the European style. If you are traveling from the United States make sure to bring adaptors and/or convertors for your electrical needs. The internet worked well enough to stream video.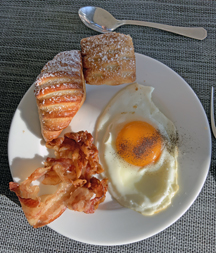 The property offers a wellness center. Unfortunately our appointments did not afford us much time at the hotel to us the wellness center. However, the wellness center offers an array of services including: a pool, jacuzzi, steam and ice rooms, vinotherapy and traditional spa treatments.
Breakfast is in the Bock Bistro. Guests can either walk outside of the hotel to the restaurant, or take the inside corridor on the bottom floor of the hotel to the restaurant. The restaurant offers cold items such as sliced vegetables, meats and cheeses as well as hot items including eggs (scrambled and fried), bacon and sausages. There are several different types of breads and rolls. Visitors can choose from a selection of different teas, coffee and juices to drink. Some people braved the cooler morning temperatures and ate their breakfast on the outdoor terrace. From the terrace there are views of Lake Balaton.
Wine travelers can make Zenit Hotel Balaton a base for exploring wineries in the Balaton wine region.
Zenit Hotel Balaton
Vonyarcvashegy, Helikon u. 22, 8314 Hungary
Article written April 2019