Bock Hotel Ermitage
by
Terry Sullivan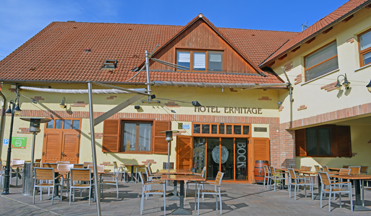 Summary: The Bock Hotel Ermitage is located in Villány, a short distance to a plethora of wineries. The onsite winery has one of the most distinguished cellars in the country. The hotel offers a wellness center and restaurant.
We stayed at Hotel Ermitage in Villány. This wine hotel is located over the Bock Winery cellars. When entering, you pass through the Óbor Restaurant to the check-in desk to the right. We had our wine tasting in the restaurant along with a light dinner. Later, we had an extensive tour of the wine cellar, a must for any visiting wine enthusiast.
The 70 bed capacity hotel also offers a wellness center. The wellness center has a variety of services such as sauna, steam cabin, Jacuzzi, ice fountain and pool. In addition to traditional massages, guests can have a massage with grape seed oil and and the grape Portugieser.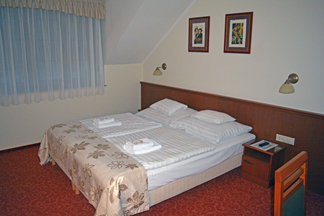 Our room was on the second floor and elevators help with the transport of luggage. Our room was comfortable. The bed was made of two twin beds put together. Two chairs with a small round table between them were relaxing. There were several electrical outlets available, all European style. Make sure you travel with adaptors and a converter. We did not find an outlet in the bathroom. The bathroom was equipped with a shower. There are soap dispensers next to the sink and in the shower. The bathroom did not have washcloths. We used the smaller towel. We did use the WiFi and found the speeds adequate for viewing video on a computer.
The Óbor Restaurant certainly had a "down to earth" style. Our waiter was friendly, discussed the wines and conducted our tour of the cellar. Grape seed oil is served with fresh bread; the restaurant also uses grape seed flour. We ate lightly for dinner since we had a heavy lunch earlier. Our dinner was enhanced when the owner of Bock, József Bock, sat down with us. We noticed that he was just as friendly with other diners.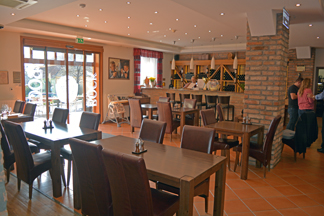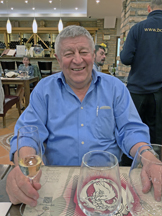 Breakfast was served on the second floor in a large room. There were cold meats and cheeses as well as scrambled eggs ands sausages. Coffee, tea and fruit juices were also available.
While at the hotel, take a tour of the cellar. Cellar tours are free for hotel and restaurant guests. Tours are available at 2:00 pm and 5:00 pm. One of the cellar rooms has wonderful acoustics, proper for music and singing. You can stand opposite a friend on a circle and speak very quietly to each other. You will clearly hear everything your friend is saying. Behind the hotel is the winery. Several stainless steel tanks are outside. A small pond makes for a nice stroll.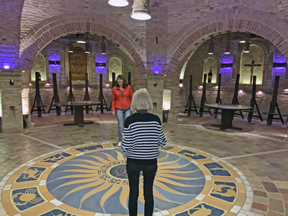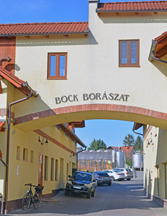 Hotel Ermitage is an ideal location for wine enthusiasts interested in visiting the many wineries in Villány.

Bock Hotel Ermitage
Villány, Batthyány Lajos u. 15, 7773
Article written March 2019