San Mauro Agroturizam
by
Terry Sullivan
Summary: The San Mauro Agroturizam site is in the town of Momjan perched 350 meters above sea level on one of the highest elevations in north-western Istria. The farm includes several rooms for lodging, a restaurant, a winery and distillery.
Arriving in the dark of early evening, we did not notice the natural beauty of Momjan until the next morning. The San Mauro Agroturizam site was a welcome last stop for a day of driving and wine tasting in Istria. We were greeted by Sergej Sinković , the general manager of the family business. Sergej whisked us off to our third floor apartment so we could freshen up prior to a tour of the winery and dinner.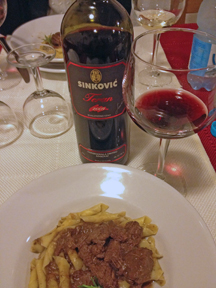 Dining Experience
After touring the winery, we went to the restaurant, on the first floor of of a multi-level Istrian villa. Two rows of tables were set with red tablecloths and white runners. Our wine tasting was paired with dinner. We were the only guests for the evening and our dinner and tasting lasted for a few hours. We were treated to an assortment of foods including a white asparagus spread and dishes prepared with truffles. We began dinner with a Muškat Momjanski for an aperitif. Our second wine was a Malvasija Istarska paired with a ravioli stuffed with cheese and truffles. Teran was our third wine paired with a pasta with beef. Dessert featured a ice cream with chocolate sauce and apricot jam. This was paired with a dessert wine, a Muškat. During dinner we had time to reflect on our day's adventures and the food and wine pairing. Sergej stopped by our table and took time answering our questions. The dining experience was amazing and completely relaxing.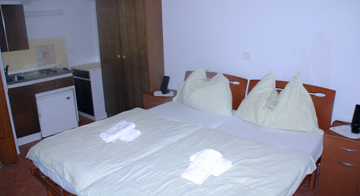 Lodging
Our room on the top floor was spacious. It consisted of a sofa, table and chairs, two twin beds put together to form a larger-sized bed, bathroom and small kitchen. After a day's journey, we were quickly asleep. It was in the morning that, looking out the windows and going out on the balcony, we noticed the beautiful countryside. An olive grove cascaded down a hillside in front of the villa. In another direction, a wineyard had individual vines staked. Blossoms were breaking out on several trees reminding us that winter was almost over. Our favorite view was the gently sloping land towards the Adriatic Sea, just a few kilometers away. Even on a cloudy day, the view was magnificent.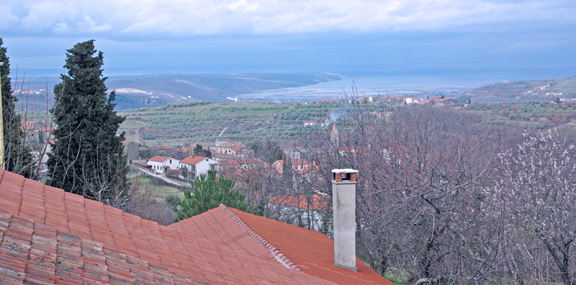 We toured the distillery after our morning breakfast in the restaurant. A stay at San Mauro Agroturizam is very relaxing. We would have loved an additional day here, but our travels called us on. Although you can visit the Sinković Winery for a wine tasting, plan to stay the evening and have dinner and wines in the restaurant.
Sinković Winery article
San Mauro Agroturizam
San Mauro 157
52462, Momjan, Croatia
Article written March 2013