Esplanade Zagreb Hotel
by
Terry Sullivan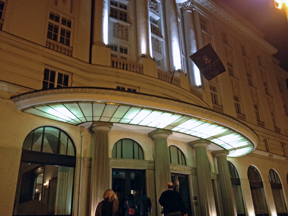 The Esplanade Zagreb Hotel in Zagreb was the site for the 2013 International Wine Tourism Conference. In addition to providing lodging for conference attendees in luxurious rooms, the main conference room was also quite elegant. This luxury hotel was an excellent conference hotel with an interesting history that spans almost a century.
History
The Esplanade opened in 1925 just steps from the railway station. The hotel became a luxury refuge for passengers on the famous Orient Express that provided service from Paris to Istanbul. The hotel also became known in the 1920's as a refuge for dissatisfied wives and their lovers. The Esplanade became a haven for the rich and famous. Many actors from the silent film era to present day have stayed at the hotel as well as singers, artists and political leaders. In 1964 the hotel joined the International Continental Hotel Corporation that was established by Pan Am to accommodate their passengers in a world-class luxury hotel.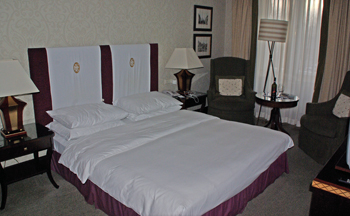 Our Room
The luxury was nice but not our foremost concern. We were more interested in Internet access that would be needed during the conference. The Internet access was fast and worked well over the three days that we were at the Esplanade. Our room had a king-size bed and two comfortable chairs. The desk had a large surface area, needed for computer, cameras, ipads, conference program and brochures. The bathroom was quite large with two sinks and bathroom amenities by L'occitane. The room was very comfortable; however, as with our other lodging on this trip we spent little time in our room.

Conference Facilities
The Emerald Ballroom was used for opening and closing sessions as well as sessions throughout the two days. The room was elegant and paper, pens and water were provided for conference attendees. Other sessions took place in suites adjacent to the Emerald Ballroom. Suites were also stocked with paper, pens and water for participants. We presented in the Istanbul Suite. My computer easily hooked up to the projector. The suite was small enough to meet and greet and not have to use a microphone during the presentation.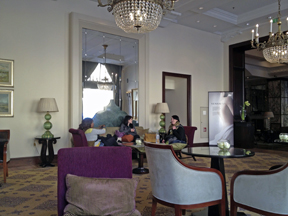 When not in a conference session, many in our group sat in the lounge to talk or work on an article or blog post. Again the Internet worked well. Breakfasts and lunches were served in the Zinfandel Restaurant. A breakfast or lunch buffet was served with many selections. The meals were not rushed and the time provided for relaxation and catching up on discussions.
The Esplanade Zagreb Hotel in Zagreb is an iconic hotel that met our conference needs. We had a comfortable stay in luxury surroundings.
Esplanade Zagreb Hotel
Mihanoviceva 1
10000 Zagreb, Croatia
Article written March 2013