Homewood Suites
Madison West
by Terry Sullivan
A few years ago we discovered Homewood Suites by Hilton. After spending a day flying to Madison, Wisconsin from Baltimore, visiting two wineries and driving 75 miles with the GPS sputtering directions, we were ready for a rest. Homewood Suites is ideal for our needs. The spacious suite-type rooms include studio style and one and two bedroom units. Generally we like the one-bedroom units, but this time we had a studio suite at the new Madison Homewood Suites.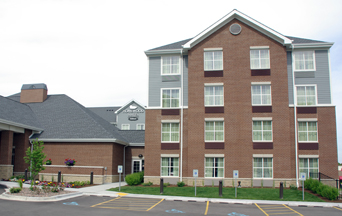 Check in was quick and simple. After a short rest we proceeded to the dining area. On weeknights (Monday through Thursday), Homewood Suites offers a complimentary light dinner. Since we had plenty of writing to do that evening, this light dinner was perfect. On the night of our visit the dinner included personal pizza, roll, tomato basil soup and a salad. Beer, wine and lemonade along with tea and coffee were on hand. The dinner was fast and afforded us the time we needed to work during the evening. Breakfast the next morning consisted of scrambled eggs with cheese, sausage and bacon. There were also sausages and breakfast potatoes to accompany the scrambled eggs. One can make their own waffles and there were an assortment of cereals. Tea, coffee, orange and apple juices were the beverage choices.
Rooms have a kitchen that makes it convenient to brew tea, coffee and prepare light meals. We generally do not use the kitchen since the complimentary dinner and morning breakfast are available in the dining area. The kitchens have a large refrigerator, small stove, microwave and dishwasher. Beds are very comfortable and the television can swivel between the bed and sitting area. The wireless Internet worked well and there was an IEEE wire in case your computer doesn't have wireless connectivity.
Not only are Homewood Suites a great value for business trips, they are also perfect for families. With the complimentary dinner on weeknights and a daily breakfast, Homewood Suites offer a good value for family travel.
The Madison Homewood Suites opened in the fall of 2008. It is located between Botham Vineyards & Winery and Wollersheim Winery. If in the Madison area, a stay at the Homewood Suites is a great value.
Homewood Suites by Hilton Madison West
479 Commerce Drive
Madison, Wisconsin 53719
GPS: N43º 03.391' W89º 31.293'