Chateau Mere
by
Terry Sullivan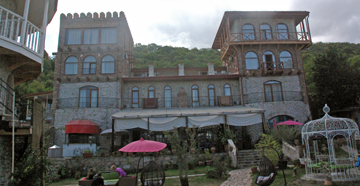 Summary: The resort Chateau Mere is only minutes from the largest city in Kakheti, Telavi. This agritourism site offers lodging, a restaurant, a winery and wines. It is the perfect base for wine travelers who wish to explore the Kakheti region in and around Telavi.
The resort Chateau Mere looks like a small castle complete with towers and battlements. From our second-story balcony looking down into the courtyard, we were quick to note that this castle was not built for the purpose of war, it was built for the purpose of entertainment. An outdoor swimming pool overlooks cliffs.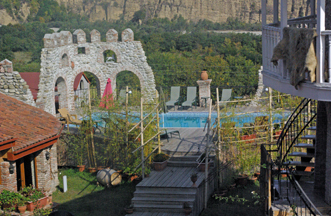 Near the pool is the enclosed marani (wine cellar). The marani houses several qvevri buried under the stone floor. The qvevri are used for fermenting and maceration of wine. In the courtyard, there were several areas where guests can sit and enjoy the views, wines and foods.
Chateau Mere opened in 2011 and is an agritourism destination. It has 15 rooms, a restaurant and a winery. Wine travelers can use the chateau as a base for exploring wineries in Kakheti especially those in and around Telavi. The owners George Piradashvili and his wife, Nino Gagua are passionate about getting their visitors involved in the wine culture. Nino spoke to us about how this passion for good food and wine led to the building of Chateau Mere. The couple entertained their friends at their home. After spending several hours and drinking a lot of wine, their friends decided to spend the night at their home. Soon this common occurrence led George and Nino to build a chateau with guest rooms. Their friends were very happy. However, the chateau is so popular that most of the rooms are filled. Now their friends want them to build another chateau.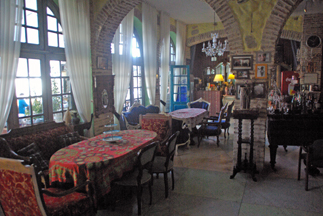 Our room had two twin beds, a small couch, television and bathroom. It was comfortable. The balcony overlooked the courtyard. In addition to the 15 rooms in the chateau, there is a large seating area and conference room. We ate at the restaurant and since the weather was nice during our visit, we ate breakfasts and dinners outdoors on a covered balcony. There is indoor seating in a large area that looks more like an antique museum than typical restaurant. You can spend time ambling past the artifacts reminiscent of a time past.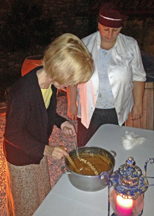 There is a range of activities that quests can participate in. Some activities are wine related such as participating in harvest, crushing grapes and tasting wines. Other activities are food related. Visitors can make cheese, bake bread in a tone, make churchkhelas ( a string of walnuts dipped into a boiled down grape juice) and make khinkali (a dumpling filled with meat, onion, herbs and broth). During our stay we baked the bread in a tone, made churchkhelas (pictured) and khinkali. Visitors can also participate in hiking and horseback riding.
Chateau Mere
Vardisubani, Telavi Region,
Telavi, Kakheti, Georgia