Two Rivers Chateau
by
Kathy Sullivan
Two Rivers Winery & Chateau offers visitors wine tastings, lodging (10 rooms available), occasional tours and views of 11 acres of vines. Stop here, spend the night and taste wines including Riesling, Chardonnay, Merlot, Cabernet Sauvignon and Port.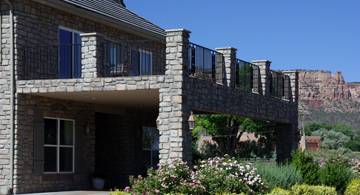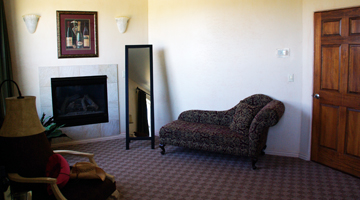 We arrived at Two Rivers Winery & Chateau late in the evening. The architecture of the building stood out against the night sky. Bob and Billie Witham designed Two Rivers Winery & Chateau as a French Country Chateau. Despite the darkness, the sense of the majestic-like features was impressive. Inside, a large cavernous center with beautiful wood floors welcomed us. The inn is also available as a conference center. A long staircase with a wrought iron railing led up to several rooms and a balcony. Our room was spacious and the French décor included a traditional fainting couch.
The ten lodging rooms have unusual names including Champagne Suite, Beaujolais, Alsace, Provence, and Chablis. For those looking to stay in a room that is handicap accessible, the Pyrenees room on the ground level is available.
The next morning a breakfast was available, also on the second floor. Fresh breakfast foods were available include a delicious blueberry treat.
Outside of the chateau, a pavilion is available for weddings and the chateau offers two tasting rooms and other amenities for receptions. With it's background of the cliffs, it is a lovely place for a wedding. Views from the chateau include Colorado National Monument, Bookcliff Mountain range and the Grand Mesa.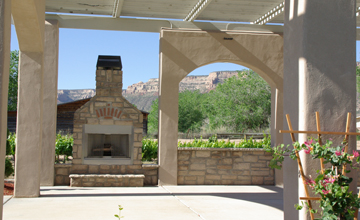 Two Rivers Winery & Chateau
2087 Broadway
Grand Junction, Colorado 81503
For more Information