Hampton Inn and Suites, Streetsboro
by
Terry Sullivan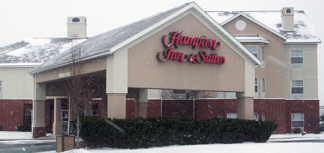 The Hampton Inn and Suites, Streetsboro, Ohio was a pleasant discovery just off the Ohio Turnpike, Exit 187. It was one of the nicest Hampton Inns that we have stayed at and is definitely an upscale for the Hampton chain. Entering the lobby, one notices the walnut stairway leading to the second floor. Two sofas await the traveler and a walnut reception counter gives the area an elegant feel.
Beyond the stairway there is a breakfast area also adorned with walnut wood trim and a welcoming fireplace. A breakfast is provided each morning for guests. On Monday, Tuesday and Wednesday evenings there is a Manager's reception for guests. Assistant manager, George Burke, greeted each guest who attended the reception. A red and white wine along with beer, coffee and tea was available. Carrots and celery with a dip complemented the chicken strips and appetizers provided by Applebee's restaurant. Beyond the dining area is an indoor swimming pool.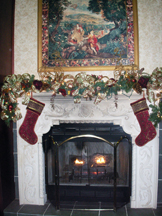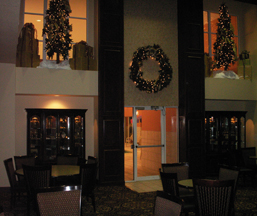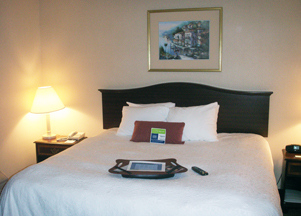 Our suite room was a wonderful surprise. The two-room suite had a sitting room, private bedroom and fully equipped kitchen. Televisions were in the sitting room and the bedroom. The kitchen was a nice addition since we could make tea without using the coffeemaker that has a tendency of tainting the tea's taste. The bed is very comfortable and the bathroom off the bedroom had the typical amenities. In addition to the suites, the hotel has standard rooms with either a king size bed or two double beds.
The hotel is eleven years old and currently undergoing renovations. Rooms will have new carpeting, wallpaper, lighting, marble tile in the bathrooms and pictures. Hallways will receive new carpeting, wallpaper and lighting. An already comfortable hotel will be more comfortable after renovations are completed.
The location of this Hampton Inn and Suites, just off the Ohio Turnpike is also close to area wineries. Within a half-hour drive, travelers can visit Viking Vineyards and Winery, Thorn Creek Winery, Sarah's Vineyard and Candlelight Winery. Other wineries are within a 45-minute drive. Hampton Inn and Suites, Streetsboro makes a good base for exploring area wineries.
Hampton Inn and Suites
800 Mondial Parkway
Streetsboro, Ohio 44241