Inn at Glenora Wine Cellars
by Terry Sullivan

There are many wineries to visit along Seneca Lake's west side. About halfway between Watkins Glen and Geneva is Glenora Wine Cellars. In addition to vineyards and the winery, Glenora also has an inn and restaurant. The inn offers 30 rooms with private balconies or patios. Views of Seneca Lake, the vineyard and rolling hills offer many photo opportunities.
We stayed in a room that overlooked Seneca Lake. With a private balcony and a glass of wine, it was a perfect place to end the day gazing out over the lake to its east side. If you decide to stay at the inn, check out the special packages available for guests. The Inn offers some amenities not usually seen at the chain hotels. Guests are invited to have a glass of sparkling wine before dinner and a glass of port after dinner. A bottle of wine and bottled water is placed in each room for guests. Summer rates at the Inn range from $179 to $309 depending on the day of the week and the type of room. Winter rates range from $119 to $259.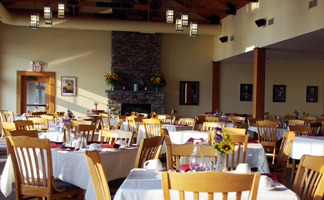 The restaurant located at the inn can accommodate various size groups. Each table has a white tablecloth and a small bouquet of dried flowers. Do call in advance for dinner reservations. The restaurant offers spectacular views of Seneca Lake. During warmer weather, guests may eat outdoors on the large deck area. We ate both dinner and breakfast in the Veraisons Restaurant. The food for our dinner was a bit overcooked for our liking however the breakfast was fine.
The winery is a short uphill walk from the Inn. Depending on the time of year of your visit, you may observe different steps in the wine making process. After our breakfast we meandered up to the crush pad to observe the filtering of Pinot Noir juice. Prior to filtering, the juice looked like muddy water. However, after the filtering it was a light transparent red. In addition to the winery and tasting room, there is plenty of space to go for walks.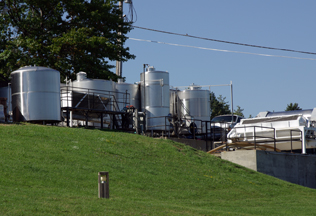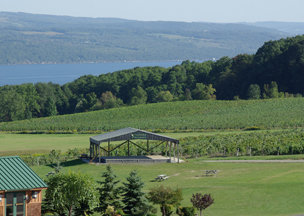 The proximity to twenty wineries just on the west side of Seneca Lake and other wineries on the east side make the Inn at Glenora Wine Cellars a good choice for spending a relaxing evening in the vineyards.
Inn at Glenora Wine Cellars
5435 Route 14
Dundee, NY 14837
Winery Article