Crow Farm and Vineyard Bed & Breakfast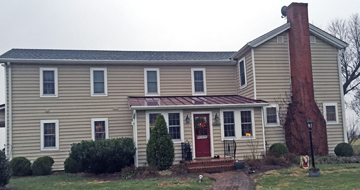 Summary: Crow Farm and Vineyard is one of just a few Maryland wineries that have accommodations on the property. Visitors can taste wines, spend the evening and wake up next to a vineyard.
We visited Crow Farm & Vineyard, in Kennedyville on a cold, rainy January day. We were able to spend the evening on the farm in the renovated family house that dates from 1847. The house also serves as the residence of owners Judy and Roy Crow. The bed and breakfast section of the house is separated from the family residence section.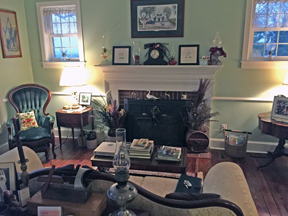 The first floor has a check in area, a couple areas to sit and a breakfast area. Three well-furnished bedrooms are on the second floor. The main seating area is adjacent to the breakfast table. There are comfortable chairs and a fireplace that gives this room a homey feel. The breakfast table was set for four guests. Another couple had spent the night in one of the guest rooms.
We stayed in the Barn View room (first photo below), a quaint room that was very comfortable. The room had a private bathroom, satellite television, queen-size bed and walk-in closet. Windows overlooked the barn and the vineyard that was taking a long winter's nap. A larger versatile room is the Vineyard View Room (second photo below). This room has two twin beds that can be moved together to form a king-size bed. The room also overlooks the vineyard. In the king-size bed configuration, the room is spacious. The private bathroom is across the hallway from this room. A third room is called the Pasture View Room.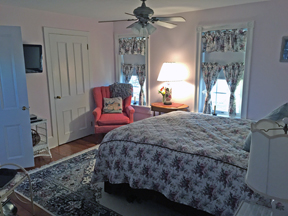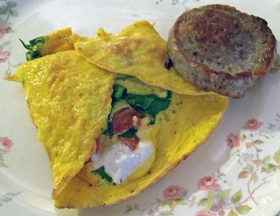 Our breakfast included an egg omelet, sausage and bread pudding. We enjoyed meeting and talking with the other couple.
There are plenty of activities to do in the area. We timed our stay with one of Crow Vineyard's events. The Crow Winter Wine Dinner Series was held at Molly's Inn just a few miles away in Galena. We had a fabulous multi-course dinner prepared by Chef Matt Whitehair. Each course was paired with a Crow wine. After the dinner, we were only a short drive away from the bed and breakfast.
Staying in accommodations at a winery and vineyard is always romantic. Even during the season when the vineyard is at rest. The Crow Farm and Vineyard Bed and Breakfast is a perfect base for wine enthusiasts who want to explore the Chesapeake Wine Trail on Maryland's Eastern Shore.
Crow Farm & Vineyard Bed & Breakfast
12441 Vansants Corner Rd.
Kennedyville, Maryland 21645
GPS: N39º 19.068' W75º 55.661'